Asbestos Surveys in London
We are a UKAS Accredited & Fully Insured company providing asbestos surveys throughout the London area
"Your hard work appears to make things work like magic; I applaud you for that"
Claire Curran – Managing Director – Linaker (London, Birmingham)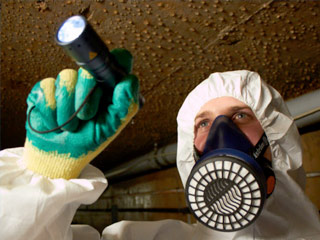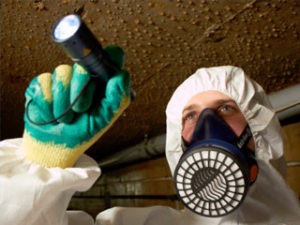 All your asbestos surveying needs in one place. For your convenience our London office is located in Blackfriars London. This gives us quick and easy access to the whole of the London area. You will see that we are fully UKAS accredited to deliver all asbestos survey types. In addition to this we have additional accreditations and licences for every asbestos service currently available. You will have peace of mind with our highest available insurance cover. This is in place for your protection. Click here for all accreditation, license and insurance details
"Delivery of service and quality, always first class"
Richard Petrie – Senior Project Manager – Overbury (London)
You will find that we are unbeatable in delivering a fast, reliable, quality, value for money service anywhere in London. You will not find anyone that can even get close to our service. Don't just take our word for it, here's what our customers are saying about us.
With the complete range of asbestos surveys currently available, you have a solution for every asbestos challenge you may have. All our asbestos surveying services include the latest survey techniques, laboratory analysis and reporting.
With over a decade or experience delivering asbestos surveys to a whole range or properties, buildings, and sites across London you are guaranteed the highest quality asbestos surveys available.
We cover every area of London and have undertaken asbestos survey work across some of London's major landmarks. The Thames Barrier, Battersea Power Station, Barbican Centre, Kensington Palace & many of London's famous rail stations including the London Underground. These are to name a few. In addition, we have carried out asbestos survey work across all areas of commercial and domestic property throughout the London regions.
Our highly experienced surveying team are here for you. Highly trained and certified to recognised standards. Every surveyor is ready for all eventualities and can offer high level access, confined space entry and are all CRB checked for your safety.
We give you expert advice and provide easy to read and understand comprehensive asbestos survey reports. We provide a fast and efficient service which is part of the Oracle culture. Its what we do.
Asbestos surveying: Your Questions Answered
Below you will find the answers to the most common questions when it comes to carrying out asbestos surveys in and around London. You will find the basic information on asbestos management, refurbishment, and demolition surveys. In addition, there is some useful information on want to expect. If there anything we have not covered then please speak to a member of the team and they will be able to answer any questions you may have.
What is asbestos surveying?
To locate and identify asbestos containing materials within a building or property it must be inspected by a suitably trained and competent asbestos surveyor. This inspection is asbestos surveying and is referred to as an asbestos survey. There are thousands of asbestos surveys being undertaken in and around London daily.
Currently three types of asbestos survey are in operation in the UK. These are an asbestos management survey, an asbestos refurbishment survey and an asbestos demolition survey.
During an asbestos survey, no matter the type, the inspection must detail the exact location and extent of asbestos within the property being surveyed. An asbestos surveyor will carry out a risk assessment on their findings which includes the condition of asbestos and type. The risk assessment will also take into consideration the reasons why the asbestos survey has been carried out and what asbestos survey type is being undertaken.
The surveyor will make recommendations based on their findings in line with the risk assessment. All of this information will be given to you in a survey report which must be tailored to your needs whilst being fully compliant with current asbestos legislation.
Are there different types of asbestos survey?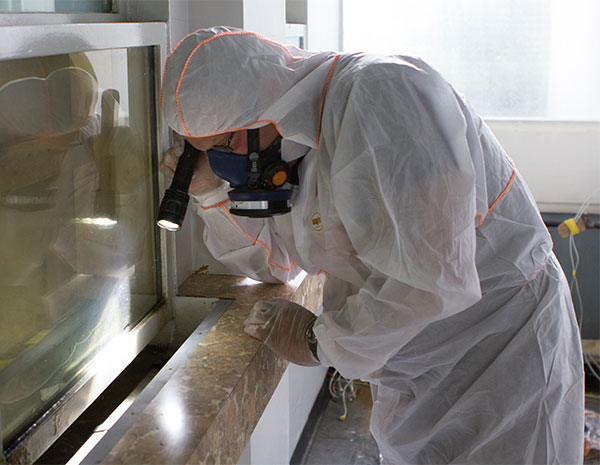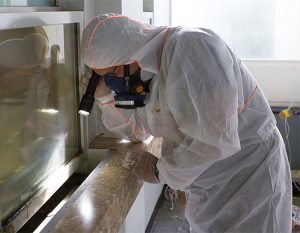 Yes. All asbestos surveys must be compliant with HSE guidance HSG264 Asbestos: The Survey Guide and HSG248 Asbestos: The analysts' guide for sampling, analysis and clearance procedures. These documents are part of asbestos legislation, and they detail the different types of asbestos survey which can be undertaken. Currently there are three types of asbestos survey. These are:
An asbestos management survey helps you to effectively manage asbestos within a building or property. It is for general day to day use of a building or property. This asbestos survey is used in conjunction with an asbestos management plan to ensure that during normal occupancy the risk from asbestos is reduced as far as is reasonably practicable. Every building in London and the UK that was built before the year 2000 (except for some domestic dwellings) is required to have an asbestos management survey under current asbestos legislation.
The asbestos management plan is a document required under current asbestos legislation and enables you to control any asbestos risk within your property.
Oracle hold UKAS accreditation for undertaking asbestos management surveys. For more detailed information on asbestos management surveys, take a look at this useful guide: What you need to know about an asbestos management survey.
If you have a property in London or anywhere in the UK and it was bult before the year 2000 (except for some domestic dwellings) then an asbestos refurbishment survey is a legal requirement.
Due to the intrusive nature of an asbestos refurbishment survey, it may be necessary for the areas being surveyed to be evacuated during the inspection.
For an asbestos refurbishment survey to be effective the exact nature and details of the proposed refurbishment works must be made available to the asbestos surveyor. This will determine the exact scope of the asbestos inspection.
The asbestos survey will locate and identify any asbestos materials which may be damaged or disturbed by the proposed refurbishment works. Appropriate action can then be taken to reduce the risk of disturbing asbestos.
Oracle hold UKAS accreditation for undertaking asbestos refurbishment surveys. For more detailed information on asbestos refurbishment surveys, take a look at this useful guide:  Things you need to know about asbestos R&D surveys.
If you have a property in London or the UK that was built before the year 2000 and you are planning demolition, then it will require an asbestos demolition survey by law.
As with other intrusive survey works demolition surveys usually require areas to be evacuated during the inspection process. For complete demolition of a building the survey scope must cover all areas to ensure as far as is practicable all asbestos containing materials within the property are identified. These asbestos materials can then be safely removed prior to the demolition taking place.
Oracle hold UKAS accreditation for undertaking asbestos demolition surveys. For more detailed information on asbestos demolition surveys, take a look at this useful guide:  Things you need to know about asbestos refurbishment and demolition surveys.
For what reasons would an asbestos survey be needed?
London is one of the most densely populated areas in the UK. As such the number of buildings in London is far higher than any other city. Given its age a vast majority of the buildings in London predate 2000. Under the current asbestos legislation if you are in control of a building or are planning a refurbishment or demolition of a building you must have an asbestos survey undertaken.
All who control buildings even when not undertaking work have a legal duty to control the risk from asbestos. The only way to control that risk is to know where asbestos is. The only way to know where asbestos is, is by having an asbestos survey to locate and identify it.
It goes without saying that workers such as contractors and construction personnel are at great risk from exposure to asbestos. However even those just being in a building or property, including visitors are potentially at risk from asbestos if it is not managed correctly.
Therefore, if you manage a property or your involved in any type of work within a property, such as refurbishment, demolition or even maintenance an asbestos survey is a legal requirement.
Does an asbestos survey have to be to a certain standard?
Yes. The current asbestos legislation has approved codes of practice and guidance documents which outlines the legal requirements of asbestos surveys. This HSE guidance document is Asbestos: The survey guide HSG264. The document details the required training, quality, and level of expected surveying competency.
The document also places a duty on the person requiring the survey to ensure the provider they are using is suitably competent. This can be a long process. The easiest way to comply with this requirement is to use a UKAS accredited asbestos surveying company. UKAS ensure the due diligence has been carried out on your behalf. The United Kingdom Accreditation Service is the only asbestos surveying accreditation in the United Kingdom.
Oracle are UKAS accredited to undertake all asbestos survey types.
Asbestos surveys. Are they required by law?
This applies to any building in London or the UK that was constructed prior to the year 2000. If you are managing a property of this type or are undertaking any work such as maintenance refurbishment or demolition on or in such a property you must have adequate information to control any asbestos risk. The only way to gather the required information is by undertaking an asbestos survey. This is the law.
 'The Control of Asbestos Regulations 2012' (CAR) are the current UK regulations surrounding asbestos. Within these regulations information on asbestos surveying can be found within Regulation 4: The duty to manage asbestos in non-domestic premises. Details L143 Managing and working with asbestos Control of Asbestos Regulations 2012 contains detailed information on regulation 4.  The regulation basically stipulates that anyone in control of premises or property has a legal duty to manage any risk from asbestos. To do this they must identify the risks. The only sure way of identifying these risks is by having an asbestos survey.
What steps are undertaken during an asbestos survey?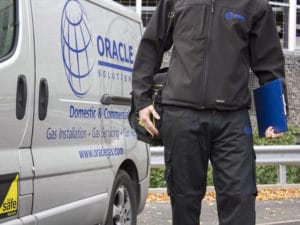 For every asbestos survey no matter the type the four main steps that are needed are:
Step 1
Step 1, the Information gathering exercise. The asbestos surveyor will ask you relevant questions so that they have all relevant information to make the asbestos survey fit for your purposes. This will include why you are having the survey to ensure you are getting the right type of asbestos survey. The information needed will include details of the property, including who may be on site during the inspection. In London it is particularly relevant to gather information on actual site access including parking etc. In addition, access challenges will be discussed to ensure all areas that require inspection are readily available during the survey process.
Step 2
Step 2, the site visit. The surveyor will attend your property to carry out the asbestos inspection. How the surveyor approaches the inspection will depend on the type of survey being carried out.
The asbestos surveyor will visit the site to undertake the asbestos survey. The nature of the inspection will depend largely on the type of asbestos survey being carried out. However, in general, the asbestos surveys that our surveyors carry out will check every area of the property. This is carried out methodically, one area at a time, inspecting the floors, walls and ceilings.
Step 3
If the asbestos surveyor locates anything which they believe to be asbestos, they will take a small sample which can be sent to a laboratory for asbestos testing and analysis. When taking asbestos samples, an asbestos surveyor will try to take them from inconspicuous areas. Samples are usually about the size of a 50p coin. Asbestos samples are then double sealed in small bags ready to go to the laboratory. During the asbestos survey, the surveyor will take relevant notes and photographs – and if not already provided, they will draw a floor plan which can be marked with any sample or asbestos locations.
Step 4
The final step is to produce the asbestos survey report. Asbestos survey reports are usually electronic, and include photographs, plans and sample results. For more information on asbestos survey reports take a look at our helpful guide: Asbestos Survey Reports.
Once the asbestos survey report has been quality checked, it will be sent to you. We will then contact you to discuss the asbestos survey reports recommendations. We will then walk you through the next steps and discuss your available options.
What does an asbestos survey report contain?
Asbestos survey reports are full of information collected during the survey inspection. They also contain relevant information for helping manage asbestos risk. As asbestos reports contain so much information, we have a separate guide for clients to view which details everything you will need to know about your asbestos survey report. This guide is: Asbestos Survey Reports.
If you would like more information on your asbestos survey report and how it can help you, please contact a member of the team now. 
What is UKAS accreditation and what should I know?
UKAS are government backed and recognised as the only asbestos accreditation body in the UK. UKAS ensure asbestos surveying organisations are assessed against international set standards of quality and competency. They do this by undertaking regular in-depth inspections and assessments of both on site and office operations and personnel. For more information, take a look at why should you seek out a UKAS accredited organisation when commissioning an asbestos survey?
Do asbestos surveys in London have unique challenges?
Yes. When it comes to asbestos surveys in and around London the capital city presents some unique challenges. The biggest of these and the most important challenge is getting to the site to carry out the inspection. All Londoners are aware of the traffic issues and how long it can take to get from one part of London to another.
However, for those of us that live and work in London we have our ways. We know the best times to travel. We also know the best routes through London, and we are aware of the public transport system. As a London based company, we are more than happy to use the London underground to get where we are going. Having worked in and around London for over a decade we are used to the travel and parking challenges and know how to deal with them.
For a fast & free asbestos quote call

0844 800 0801

or request your quote online.
Oracle Solutions are experts in a wide range of asbestos consultancy services