Where Can Asbestos Be Found?
Asbestos containing building / construction materials and where you're likely to find them.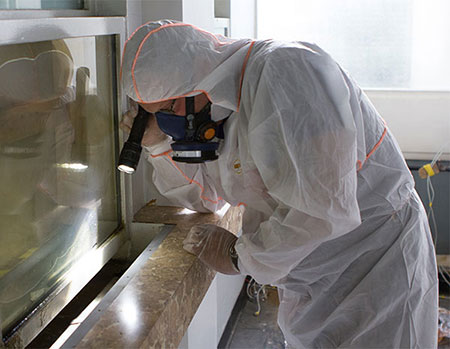 If you're looking for more information on what asbestos looks like take a look at our
What Does Asbestos Look Like?
page.
This page is designed to show you the main places you can find asbestos within a building. In most cases this refers to building which were constructed prior to the year 2000. There are so many different uses and locations of asbestos that it is not possible to list them all. This page is a great introduction to the main asbestos types and the most likely places you will find them.
There is a slight difference on the types and locations of asbestos used and found within domestic and commercial premises. To better help you we have put together additional detailed pages on these building types. These pages will give greater detail on locations of where you would be likely to fins asbestos in both commercial and domestic property.
You can view these here:
Remember, although having some knowledge to help you keep a look out for asbestos is an advantage, it is always the safest option and recommended that if you need to confirm the presence of asbestos for any reason that you get help from a professional UKAS accredited (inspection body 4600) asbestos surveying company. Asbestos surveying and knowing where to look and how to positively identify asbestos is a skilled profession. It's a profession that takes years of training and experience to master. If you're not sure, give us a call. We are here for fast and free advice.
Our guarantees to you
Oracle Solutions are fully licensed, accredited, certified and insured – and we work tirelessly to deliver the best service for absolutely anything asbestos!
Contact a member of the Oracle Solutions team now by calling
0844 800 0801

or request your quote online
Oracle Solutions are experts in a wide range of asbestos consultancy services