Bird, Bat or Pigeon Dropping Removal, Cleaning & Disinfecting
Providing fast & safe removal, cleaning and disinfecting of areas affected by pigeon droppings throughout the UK
What is bird, bat or pigeon droppings & waste removal?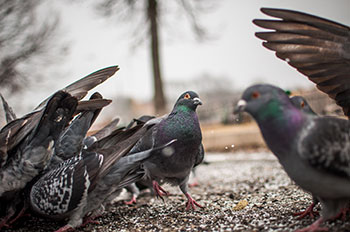 Pigeon and bird / bat waste (droppings or Guano) pose a serious health risk. If left unremoved and surfaces cleaned these droppings not only look unsightly but can cause long term damage to all types of building and roofing materials. Removal of this waste is the complete removal of all bulk droppings and waste followed by a detailed environmental clean and application of commercial grade disinfectant.
At Oracle Solutions we have a highly trained team of experts who know how to deal with all types of bird droppings safely and efficiently.
Our team are fully trained in professional environmental cleaning and disinfecting to the highest standard. All cleaning teams undergo medical surveillance, are face fit tested for correct respiratory protective equipment and are certified in all elements of high level access should it be required.
Why should I have pigeon droppings & bird / bat waste removed?
In most cases people have bird droppings removed to improve the look of a building or area. Once surfaces are fully cleaned and disinfected the look is always greatly improved, but this is not the only reason it should be removed.
There are more than a dozen diseases that can be transmitted from pigeon, bird and bat droppings. A few examples are:
Histoplasmosis is a respiratory disease that may be fatal. It results from a fungus growing in dried bird droppings.
Cryptococcosis is caused by yeast found in the intestinal tract of pigeons and starlings. The illness often begins as a pulmonary disease and may later affect the central nervous system.
E.coli infection: It is one of the common infections caused by an enteric bacteria. Bird droppings can land on or in a food or water supply.
Pigeon, bird and bat droppings can have devastating effects on heating and cooling equipment of commercial buildings. The droppings cause bad odours and bacteria which can become airborne if disturbed.
In addition the acid found in droppings and waste eat away at a buildings surfaces and if left untreated can result in very expensive repairs to roofs, ledges, balconies and other areas.
How do Oracle remove, clean & disinfect pigeon / bird / bat droppings & waste?
The most important thing to remember when undertaking this work is the safety of anyone that could be affected by the cleaning operation including the Oracle team.
Firstly where possible areas to be cleared are fully demarcated for safety. In many cases the use of polythene sheeting is undertaken to seal any local areas which may be affected by the cleaning. The Oracle team are fully equipped with P3 respiratory protection, disposable overalls, gloves and cleanable footwear. The Oracle team have a decontamination unit or other personal cleaning equipment on site.
Areas to be cleaned are fully treated with a low pressure spraying of commercial grade disinfectant. This spraying continues throughout the removal and cleaning process. The bulk of bird droppings is removed by scraping and hand tools. All waste is double bagged in heavy duty special waste sacks. All waste is disposed of in full accordance with Environment Agency guidelines and legislation. Final detailed cleaning is undertaken by hand utilising appropriate surface cleaning equipment. All areas are visually inspected prior to a final disinfectant cleaning solution being applied to the finished areas. In some instances high pressure water equipment will be utilised dependant upon location and amount of waste to be removed.
Still not sure, why not let us help you?
Our experts are ready to take your call. They will talk you through all of the available options and ensure you are getting what you need.
For a fast & free quote call

0844 800 0801

or request a quote online.
Need your quote quickly? We deliver quotations in super-fast time. Rest assured when you receive your price, for whatever service you need, the cost is the cost. There are no hidden surprises in any of our quotations.
Oracle Solutions are experts in a wide range of asbestos consultancy services