Face Fit Testing
We provide a face fit testing service to commercial businesses throughout the UK.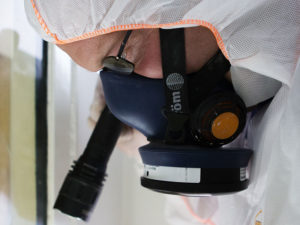 Oracle Solutions offer full face fit testing. Ensure your RPE is the perfect fit by using our highly trained team. We offer fast and affordable service so you can carry on with no delays to your workday. Using the TSI Portacount Pro which is currently the only machine which can test many kinds of masks.
Why do you need Face Fit Testing?
RPE is needed to ensure you are wearing a protective mask that is adequate and suitable to protect you from any harmful airborne substances (see below) which can account to up 13,000 deaths a year. Please click here link for more information.
Form
Properties
Examples
Solid particles
Particles of solid material, including aerosols, dusts, febres, smokes and fume
Asbestos dust
Engine exhaust particles and fume
Lead dust and fume
Stone dust
Welding fume
Wood dust
Smoke
Fungal spores and parasites
Bacteria and viruses
Flour
Liquid particles
Fine sprays, mists and aerosols made up of small droplets of liquid
Sprayed liquids:


paints
pesticides
powder coating mix
liquid jetting


Mists:


Chrome acid
Cutting fluids
Oil mist

Vapour
Gaseous forms of a solid or liquid
Solvent vapour
Mercury vapour
Gas
Carbon monoxide
Engine exhaust gases
Sewer gas
Chlorine
We complete Quantitative testing for individuals, half day or full day at the following locations;
Location: Our Head office, Unit 13 Henson Way, Telford Way Industrial Estate, Kettering, Northampton. NN16 8PX
Location: Oracle Training Centre, Findeon
Location: Any client site in the UK please ring for a bespoke requirements
Additionally if you are attending one of our Non-Licenced training courses we can complete the face fits same day!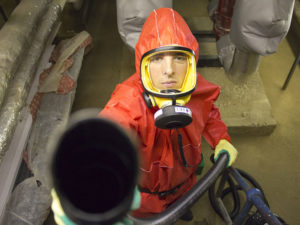 Recent research has shown that around 50% of RPE used isn't offering the protection needed against the harmful substances one of the main reasons is that the mask doesn't fit.
Frequently Asked Questions
Below are answers to some of the most frequently asked questions about face fit testing services. Can't find what you're looking for? 'Contact us' and we'll be happy to help.
How often should a fit test be carried out?
The test should be carried out 'regularly' or if the wearer:
weight loss or gain.
substantial dental work.
any facial changes (scars, moles, effects of ageing etc) around the face seal area.
facial piercings.
introduction or change in other head-worn personal protective equipment (PPE).
Some companies have a policy of retesting everyone, two or three years (depending on level of risk).
What is Quantitative Face Fit Testing?
Used for all tight-fitting respirators so no limitations, ensuring confidence on the accuracy of the results.
The mask is attached to a particle counting machine (a Portacount). Unlike qualitative testing which is relying on one person to do the testing, the machine counts the particles.
The machine will detect if any airborne particles are inside the mask which means there is a break in the seal.
The machine will give a 'pass' or 'fail' at the end of the test.
What to expect on the day?
No smoking, drinking, eating or chewing gum for 15 minutes before the test, as this could affect the results.
No beards or stubble where the mask seals because this affects the fit
There may also be an issue with longer sideburns.
A test must be done for each different type of mask – so one for half face and one for full face
Approx 15mins per delegate
There are several exercises that are completed during the test
Normal breathing
Deep breathing
Turning head side to side
Moving head up and down
Talking
Bending over
Normal breathing as number 1
Each test is performed for at least 60 seconds, during the above exercises the wearer will be carrying out a stepping exercise.
What if the candidate normally wears a hard hat or goggles with their respirator?
If you wear other PPE for example a hard hat and googles which could interfere with the seal of the mask, then please bring to wear during your face fit test to check their compatibility.
To book a face fit testing appointment call

0844 800 0801

or submit an enquiry below.