Asbestos Awareness & Asbestos Awareness Refresher Training
Providing UKATA approved asbestos training courses to businesses throughout the uk.
Virtual Online Training Available
In response to the current COVID-19 crisis, Oracle Solutions are now able to offer virtual online training courses. Contact Oracle Solutions for more information about our virtual training courses or to book your place.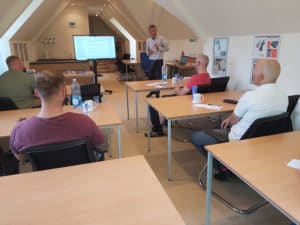 Asbestos awareness training should be given to employees whose work could foresee-ably disturb the fabric of a building and potentially expose them to asbestos or who supervise or influence the work (directors / managers).
Who are these courses aimed at?
If you have no intention of removing or disturbing asbestos but work on buildings constructed prior to the year 2000 you will need asbestos awareness training as asbestos containing materials may be present. In addition if you supervise or manage people working on these types of buildings you will also need asbestos awareness training as a minimum.
Working on the building is any work which could potentially disturb the fabric of the building and includes maintenance activities.
Examples of the types or workers this applies to include but is not limited to:
Demolition Workers
Construction Workers
General Maintenance Staff
Electricians
Plumbers
Gas Fitters
Painters & Decorators
Joiners
Shop Fitters
Plasterers
Roofers
Heating & Ventilation Engineers
Telecommunication Engineers
This type of training is NOT intended for those that will be removing, disturbing or working with any asbestos material in any way.
This type of training is intended to help candidates avoid disturbing asbestos.
How long is the training valid for?
It is a legal requirement that asbestos awareness training is updated (refreshed) every 12 months, as a minimum.
How long are the courses?
Asbestos Awareness is a half day course and runs for approximately 4 to 5 hours.
Asbestos Awareness Refresher is a shorter course and runs for approximately 2 Hours
What does the course teach you?
Asbestos Awareness Training:
The properties of asbestos and its effects on health, including the increased risk of lung cancer for those exposed to asbestos who smoke;
The types, uses and likely occurrence of asbestos and asbestos containing materials in buildings and plant;
The general procedures to be followed to deal with an emergency, e.g. an uncontrolled release of asbestos dust into the workplace;
How to avoid the risks from asbestos, e.g. for building work, no employee should carry out work which disturbs the fabric of a building unless the employer has confirmed that asbestos containing materials are not present.
Asbestos Awareness Refresher Training:
Refresher training is a basic recap of the full awareness course with particular attention paid to areas where further understanding is required.
What does the training cost?
Asbestos Awareness Training From £40 + Vat per person (dependent upon requirements)
Asbestos Awareness Refresher Training From £35 + Vat per person (dependent upon requirements)