Asbestos Reinspections Of All Asbestos survey Types
We will Keep you up to date, compliant, and safe
"Appreciate the quick response and professionalism"
Mac McCormick – Quality Manager – Sloane Helicopters (Northants)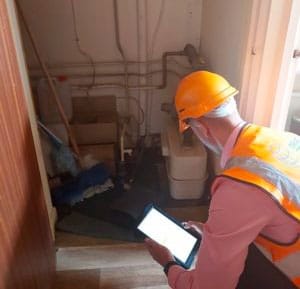 It makes sense and saves you money to keep your asbestos information and surveys up to date. Its also your legal duty. We can help you to stay compliant and keep all of your asbestos information up to date. Asbestos surveys are required by law to be updated annually. This is called an asbestos reinspection. Your asbestos reinspection keeps you and everyone else safe. Don't delay. Get it booked now.
When you use Oracle for your reinspection we guarantee you that we will not be beaten on speed, service or delivery. We challenge you to find anyone better.
"Speedy turnaround and most professional service"
Steve Jones – Compliance Manager – UK Mission Enterprise (London)
Under the Control of Asbestos Regulations 2012 and for compliance with regulation 4: The Duty to Manage Asbestos in non-domestic premises, there is a requirement that an inspection survey is to be carried out on any asbestos containing materials.
What are asbestos reinspections?
Asbestos re-inspections are undertaken on buildings that have previously had an asbestos management survey. The purpose of an asbestos reinspection is to check all positive samples found on site and to see whether the condition of the asbestos containing materials in the building has changed due to accidental damage, wear and tear, etc. If the condition of the material has changed, this could then affect the material risk which, can then lead to the product no longer being safe and manageable.
How can we help you?
Within the Control of Asbestos Regulations 2012 it states "As a minimum, the asbestos management plan, including records and drawing, should be reviewed every 12 months."
With this in mind, it is essential that an asbestos re inspection is undertaken every year as a bare minimum. Not only can we do reinspections that had been carried out by Oracle Solutions Ltd, we have the ability to reinspect from any other previous asbestos management report that can be provided to us as an electronic or hard copy.
An asbestos re inspection must be carried out by a competent person, must have sufficient training and experience or knowledge. Rest assured, with our UKAS Accredited Asbestos Surveyors (UKAS accredited inspection body No. 4600), knowledge, training and experience, you are in safe hands.
Our asbestos reinspection reports will include all asbestos containing materials that was previously identified from asbestos management surveys that had been undertaken, new photographs of the materials, new recommendations to advise what the next steps are and plans showing all identified asbestos within your site or building.
For a fast & free asbestos quote call

0844 800 0801

or request your quote online.
Need your quote quickly? We deliver quotations in super-fast time. Rest assured when you receive your price, for whatever service you need, the cost is the cost. There are no hidden surprises in any of our quotations.
Oracle Solutions are experts in a wide range of asbestos consultancy services