Lead Paint Testing
We provide lead paint testing and removal services to commercial businesses throughout the UK.
Suspect lead in your property? Oracle have a team of highly skilled and qualified consultants who will assess and test for the presence of lean in any suspect paintwork for you.
Why do you need to identify lead in paint?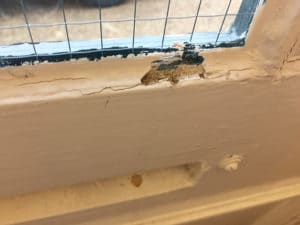 The control of lead at work regulations 2002 main objective is to avoid exposure to lead as it is known to be a potential health hazard leading to lead poisoning. Employers must ensure their workers aren't exposure to lead. To do this you need to identify if lead is present which is found in older buildings.
Where can lead paint be found?
Lead can be found in many materials, please see a selection below:
Cast iron pipes, gaskets and connections
Flashing
Glazing
Paint and surface coatings
Lead glass and stained glass
Cable and wire casing
Decorative pieces
How can Oracle help with Lead Paint Testing?
Our highly trained consultants will come sample the lead in a safe manner which will then be analysed with quick turnaround. Alternatively a sample can be delivered to our offices in Kettering ready for analysis.
Still not sure, why not let us help you?
Our experts are ready to take your call. They will talk you through all of the available options and ensure you are getting what you need.
For a fast & free quote call

0844 800 0801

or request a quote online.
Need your quote quickly? We deliver quotations in super-fast time. Rest assured when you receive your price, for whatever service you need, the cost is the cost. There are no hidden surprises in any of our quotations.
Oracle Solutions are experts in a wide range of asbestos consultancy services