Surface Asbestos Removal & Asbestos Litter Picking
Providing specialist asbestos removal litter picking from the surface of contaminated land
Asbestos removal litter picking to the surface. A very economical solution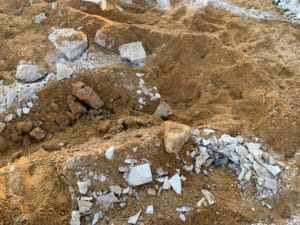 Asbestos litter picking can be a very economical solution to asbestos in soil and contaminated land.
Once you have had your asbestos in soil and contaminated land survey, we will be able to advise you if the surface removal asbestos litter picking is an option for you.
How is an asbestos surface removal asbestos litter pick carried out?
The asbestos survey information of the contaminated land is reviewed. The first thing to do is to stake out the area to be worked on with highly visible markers.
Once the area has been visibly marked it is then divided down into manageable squares to be worked on using a gridding system.
The grid is marked out with high visibility barrier tape. Each square of the grid is then numbered, and the grid squares are marked on a plan of the site.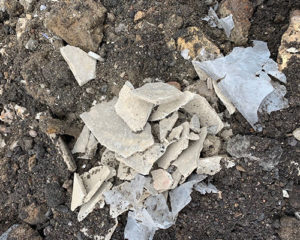 Each numbered square then becomes an asbestos respirator work zone. A marked square is then worked on by a team of asbestos removal operatives using required cleaning and protective equipment. The square is then litter picked to ensure that all visible asbestos and associated asbestos debris is placed in sealed containment ready for disposal.
Once the square has been cleared of all visible surface asbestos and associated debris it undergoes a final visual inspection and is certified as being clear. This continues square by square until the entire gridded area is complete and ready to hand back to you.
When can I use an asbestos surface removal litter pick option?
This is a suitable low-cost solution to asbestos contaminated soil and land where the asbestos is only located to the surface or where you do not require access below the surface to complete what you need.
This method can also be used where there are mounds or piles of construction, demolition waste or soil where asbestos and associated debris is located to the surface areas.
We are your experts in asbestos in soils and asbestos contaminated land. We will give you the right advice and provide you with legally compliant solutions no matter what your faced with. If you have land or soil which you believe has asbestos contamination, then call us now and we will guide you through every step.
The complete solution
Oracle offer the complete solution. You get full expert consultancy providing you with the fastest best value solution. Easy to understand asbestos reports with appropriate recommendations and solutions to whatever is discovered. You get our team of fully HSE licensed asbestos remediation experts to carry out whatever remediation is required. We will even provide you with the required asbestos air monitoring as and when you need it.
For a fast & free asbestos quote call

0844 800 0801

or request your quote online.
Need your quote quickly? We deliver quotations in super-fast time. Rest assured when you receive your price, for whatever service you need, the cost is the cost. There are no hidden surprises in any of our quotations.
Oracle Solutions are experts in a wide range of asbestos consultancy services