Asbestos Audit – Quality Check
Your Complete Asbestos Removal Audit. Quality Checking Contractors on Your Asbestos Removal Project
"Oracle in a package – Fast, Professional, Resilient!"
Mark Ward – Hermes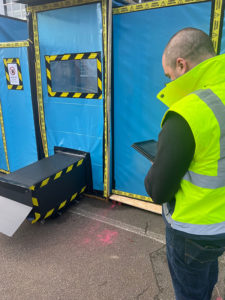 If you are looking for asbestos consultants who can carry out asbestos audits and quality checks on removal projects. You have come to the right place. We understand how hard it is to appoint a contractor. Especially when you want to ensure that your asbestos removal project is being done correctly and following HSE guidelines. This is where we step in, with over 200 years of combined asbestos knowledge. We know what it is to look out for and how the project should be done.
Auditing is also a useful tool for those wishing to quality check workers who have undertaken non licensed work with asbestos training. The following page details auditing for licensed asbestos removal work, however we undertake detailed asbestos audits of non-licensed asbestos removal work. The format is slightly different but just as detailed in the relevant areas. The non-licensed asbestos work audits focus heavily on the workers involved and look for competency ratings to help you comply with the requirements of asbestos legislation. Asbestos training is not confirmation of competency. Competency must be proven as required under the law. For more information on non-licensed asbestos work audits speak to a member of the team.
"Fast, efficient and very easy to deal with" 
Mathew Curwen – Estates Manager – Boughton Estates (Northants)
We have a Quality Management Team waiting for your call to assess your asbestos removal projects. With over 100 years combined experience and holding qualifications such as:
NEBOSH General
NEBOSH Construction
NEBOSH Fire
NVQ Level 5 in Occupational Safety and Health
P401
P402
P403
P404
P405
Chartered Member of IOSH
You have peace of mind that you are in safe hands.
What is an Asbestos Audit / Quality Check?
An asbestos audit / quality check is where a fully qualified, independent and experienced person comes to site and checks every single thing. Making sure it is fully compliant and within HSE guidelines. A full asbestos audit / quality check can be complicated. Below are a few headlines we inspect and look out for:
ASB5 – 14 day notification to the HSE to undertake the works
Method Statements and Risk Assessments – Detailed plan of works highlighting site specific risks and provision of controlled measures
Asbestos Removal Equipment – Hand tools, decontamination units, H-Type vacuums, transformers are some of the tools used
Training Certificates and Qualifications – 2 year HSE approved medical report and asbestos removal training for operative and supervisor as a minimum
Enclosures – Fully enclosed area built by timber and polythene to gain a sealed area for the works
Waste Routes / Transit Routes – Free from any obstruction and to be identified with barrier tape as a minimum. Needs to be as short as possible and as close to the enclosure as it can
For a full list and details on what an asbestos audit includes, call us now on
0844 800 0801

.
As leading asbestos consultants, we know how complex asbestos removal projects can be. This is why this service would be extremely valuable to you. Knowing you have someone on your side with a full understanding of what is required. Makes managing the removal project, a bit easier.
Do I need to have an Asbestos Audit / Quality Check?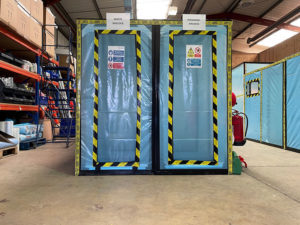 It depends on how serious you are on your asbestos project. If you want value for your money, book your asbestos audit / quality check. The cost of putting the works right can be astronomical. We have had clients contact us due to their contractors not following health and safety. Wearing no PPE or even RPE. Do not get caught out, make sure you have the right line of defence.
What Are The Benefits?
Having an asbestos audit / quality check gives you the peace of mind that the work is being done within the regulations and that there are no environmental risks to all involved. 
Checking on an industry that's so regulated can be difficult. Which is why, with our Quality Management Team being there. Carrying out all the necessary checks. Gives you reassurance that it is being thoroughly inspected. With the experience our Quality Management Team has, nothing will go a miss.
It's cost effective. The moment we see something not right, we will tell you straight away. Avoiding the heavy costs of putting works right and explaining what is required for it to be done correctly.
Most importantly, having that stress taken away from you and letting our Quality Management Team deal with the problem.
Is This Service Just For Licenced Works?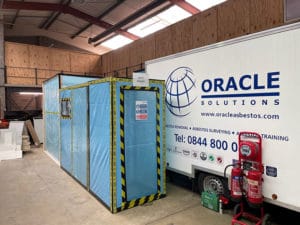 No. We can carry out an asbestos audit / quality check for any asbestos removal project you have. From a non-licenced floor tile removal. To a thermal insulation licenced enclosure. We are qualified and experienced to know what needs doing, where things could go wrong and how to minimise any potential environmental risks.
How Will I Receive The Information From The Audit / Quality Check?
Our Quality Management Team will explain to you on site what is happening. Providing you with a fully detailed report, so you can see what is and what isn't going right. If there is a problem that needs dealing with straight away, rest assured we will notify you of this and what the solution would be for it to be corrected.
We will explain the report, so you have a full understanding.  Ensuring you are up to speed with what is happening on your asbestos removal project. If there is anything you aren't sure on or have any questions, all you need to do is call and we will be more than happy to help.
For a fast & free asbestos services quote call

0844 800 0801

or request your quote online.
Need your quote quickly? We deliver quotations in super-fast time. Rest assured when you receive your price, for whatever service you need, the cost is the cost. There are no hidden surprises in any of our quotations.
Oracle Solutions are experts in a wide range of asbestos consultancy services