Asbestos Waste Collection
We provide a full range of asbestos removal and collection services to businesses throughout the UK.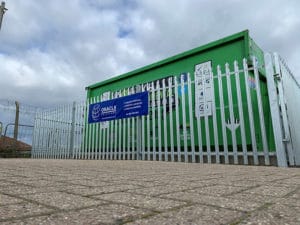 Oracle Solutions now operates a waste transfer station at their Kettering office providing all our customers with asbestos waste disposal.
We are one of the few asbestos waste transfer stations in Northamptonshire and we service the whole of the UK.
Our transfer station is managed by a technically competent person and our station is under a permit issued by the Environmental Agency ensuring we are safe and fully compliant.
If your waste contains more than 0.1% asbestos then you will have to comply with the Hazardous Waste Regulations 2005 ensuring you dispose of your waste correctly and receiving a waste consignment note which we will provide.
Oracle have bespoke vans and haulage to come collect your asbestos waste. So remove any worries about correct disposal and get Oracle to take it off your hands.
For a fast & free asbestos quote call

0844 800 0801

or request your quote online.