What is asbestos & what are the main types of asbestos?
What is it, where does it come from and why is it so hazardous?
Many people think that asbestos is manmade. It is not. Asbestos is the name for a variety of naturally occurring silicate minerals. These minerals or rocks form naturally and contain fibrous strands or asbestos fibres. These minerals and fibrous rock formations occur in many parts of the world. Today the main areas of commercial asbestos mining are located in Russia and China. In the past Canada and Southern Africa were also amongst the biggest asbestos mining locations.
Asbestos containing rock once mined is crushed and milled at the mining site to produce various grades of raw asbestos fibre. This raw asbestos fibre is then transported to factories throughout the world to be combined with other ingredients and produce various asbestos containing materials.
Commonly used across such industries as construction and shipbuilding, mainly between the 1950s and the 1980s, the collection of naturally occurring silicate materials known as asbestos was finally banned altogether in the UK at the end of 1999.
The substance was once popular on account of such qualities as its high tensile strength, low thermal conductivity, flexibility, incombustibility, and resistance to chemical attack.
In more recent years, however, restrictions were imposed on the use of the material amid concerns about its association with the development of serious and potentially fatal diseases among many of the people who had come into contact with it.
These consequences led to the use of asbestos eventually being phased out altogether. However, with lethal asbestos fibres still being present in many buildings up and down the UK, it remains crucial to be alert to the different types of asbestos, and how to spot them so you can avoid any exposure to asbestos.
What are the main types of asbestos and how were they used?
Detailed below are the six main types of asbestos, which can be divided into two broad families: serpentine asbestos and amphibole asbestos.
Chrysotile asbestos (white asbestos)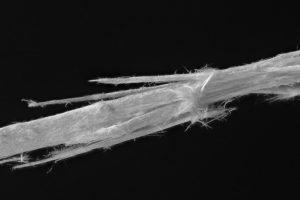 The most commonly used asbestos across the world was chrysotile asbestos, accounting for up to 90% of asbestos used globally. This white-coloured asbestos is also the only member of the serpentine family of asbestos, which is softer and more flexible than the hard and brittle fibres of the amphibole family.
This type of asbestos, which has a long, curly and wavey appearance, was frequently used in roofing material, such as corrugated asbestos sheeting. It also saw routine use in textiles – including safety clothing and fire blankets – and by the motor industry for the likes of brake linings and gaskets.
Chrysotile asbestos was also no stranger to residential buildings, where it was used in floor coverings, toilet cisterns and decorative coatings, to cite just some examples.
Amosite asbestos (brown asbestos)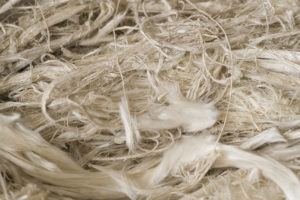 As a member of the amphibole family, amosite asbestos is more brittle and easily broken than serpentine asbestos such as the aforementioned white asbestos.
This particular asbestos consists of thin, needle-like fibres that it can be easy for someone to inhale if the material is disturbed. Also known as brown asbestos due to its light brown colour, amosite asbestos was especially commonly used in the UK, its strength and remarkable heat resistance leading to its frequent use in ceiling tiles, wall cladding, door linings, soffits and fire brakes.
Crocidolite asbestos (blue asbestos)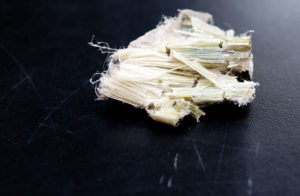 Like amosite asbestos, crocidolite asbestos is part of the amphibole family, with its fibres being extremely thin and brittle. It is considered a particularly hazardous form of asbestos due to its 'friability', or susceptibility to crumbling if disturbed.
Nonetheless, this is another type of asbestos that was once widely used, including in the likes of pipe insulation, spray coatings, cement products, and even cigarette filters.
Anthophyllite asbestos
The remaining three types of asbestos in this rundown were not widely used on a commercial basis. Nonetheless, anthophyllite asbestos did see use in some products such as talcum powder, composite flooring, and vermiculite. It has even occasionally been present in some cement and insulation products, although it wasn't a frequent fixture in consumer goods.
This type of asbestos is yellow in hue, and consists of long, needle-like and easily inhaled fibres. However, unlike other members of the amphibole asbestos family, it has low tensile strength.
Tremolite asbestos
Although tremolite asbestos – which is white to dark green in colour – was only mined in modest quantities, it may be present in certain asbestos products such as asbestos loft insulation, asbestos cement sheets, ceramics and chalks, in addition to asbestos-containing gaskets and fire doors.
Trace amounts of this form of asbestos have sometimes been found in talc and vermiculite. This is a reminder that while tremolite asbestos is far from the most common form of asbestos, it can still be found often enough in certain places to present its own serious dangers.
Actinolite asbestos
A darker-coloured type of asbestos than others in this list, with long and sharp fibres that can be easily breathed in, actinolite asbestos consists of iron, calcium, magnesium and silicon.
It isn't a variant of asbestos that saw commercial use in its own right, although it did still appear in several asbestos products such as sealants, loft insulation, and asbestos fireproofing materials. Still, it is less likely to be found within buildings and other products than other types of asbestos mentioned here.
How dangerous is asbestos?
Today, asbestos is a notorious carcinogen, to such an extent that asbestos exposure has led to more deaths in the UK than any other single work-related factor.
There is no such thing as a "harmless" form of asbestos; all six types of asbestos outlined here can cause any of a number of serious and potentially fatal respiratory diseases, such as mesothelioma, pleural disease, lung cancer or asbestosis.
While it might take about 15 to 60 years for any given person who has breathed in or ingested asbestos fibres to develop serious health conditions  such as lung cancer, mesothelioma, pleural disease or asbestosis, the recent statistics showing more than 5,000 asbestos-related disease deaths a year in Great Britain tell their own tragic story.
What should you do if you suspect the presence of asbestos?
As detailed above, asbestos exposure continues to be extremely dangerous. This is why anyone who believes the material may be present in a given location – or who thinks they may have come into direct contact with it – needs to take the threat it poses very seriously indeed.
The Health and Safety Executive (HSE) urges those who discover suspected asbestos during on-site work to cease this work immediately, followed by putting up a warning sign to help prevent others from entering the affected area. Workers who discover potential asbestos should report it to whoever is in charge, and arrange for analysis of a sample of the material.
For advice and assistance in relation to the safe and responsible management of a potential asbestos risk on your site, please do not hesitate to contact our own professionals at Oracle Solutions. We can give you free guidance to ensure you take the wisest course of action, potentially followed by a highly competitive quote for any specialised work you may need to be undertaken by us.
Oracle Solutions are experts in a wide range of asbestos consultancy services