UKAS Accredited Asbestos Refurbishment & Demolition Surveys
Providing a full range of asbestos surveying services to businesses throughout the UK.
"Working with Oracle is a pure pleasure!"
Kris Madej – Facilities Manager – The London Womens Clinics Group
Here at Oracle Solutions, we are trusted and fully licensed professionals undertaking cost-effective pre-refurbishment and demolition surveys for businesses around the UK. But what do you need to know about this type of asbestos survey, including the circumstances in which you will require one?
What is an asbestos refurbishment and demolition survey?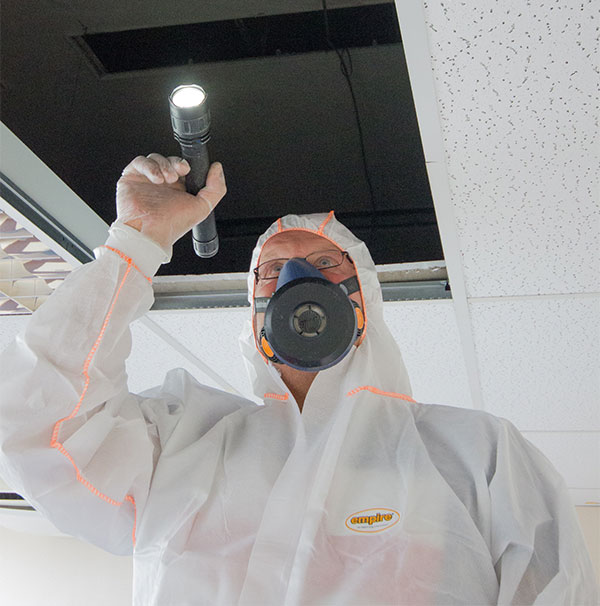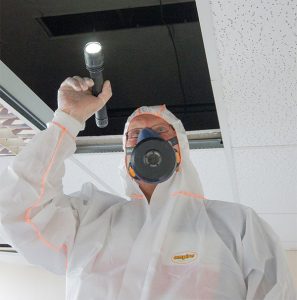 Refurbishment and demolition asbestos surveys, also sometimes referred to as a type 3 asbestos survey, is used to locate and describe, as far as reasonably practicable, all of a given building or area's asbestos-containing materials (ACMs), where refurbishment or demolition work is planned.
Asbestos doesn't pose a risk to human health when left securely sealed in a building in which it may be present. However, if the material is disturbed – as can easily occur during refurbishment or demolition work – fibres may become loose and be released into the air. This would greatly heighten the risk of someone contracting airborne diseases such as pleurisy, lung cancer and mesothelioma.
Is an asbestos survey legally required?
The law requires a refurbishment or demolition survey to be carried out for a property or area that will be subject to demolition, renovation or refurbishment.
Your Construction Design and Management (CDM) Co-ordinator will need such an R & D survey to be undertaken in accordance with the Control of Asbestos Regulations 2012, which state that all asbestos-containing materials must be removed from a building, as far as reasonably practicable, before major refurbishment and structural work or final demolition.
When would a refurbishment and demolition survey be needed?
R & D surveys are needed prior to any refurbishment or demolition works at a property. If you own or are responsible for a building that you are planning to refurbish and demolish and you fail to correctly manage any asbestos that may be present on the premises, you could put individuals at risk of coming into contact with potentially extremely harmful asbestos fibres.
This, in turn, could lead to fatal disease for anyone who breathes in the fibres, and prosecution and imprisonment for anyone failing to properly manage this lethal substance. There is therefore a moral, legal and health imperative to have such a survey undertaken prior to refurbishment or demolition.
Do I need an asbestos survey to refurbish or demolish a building?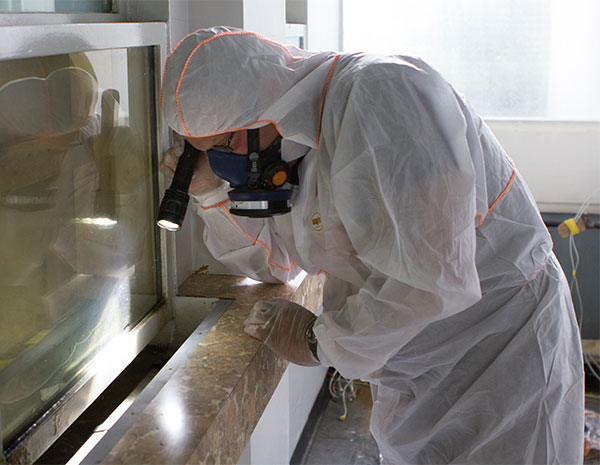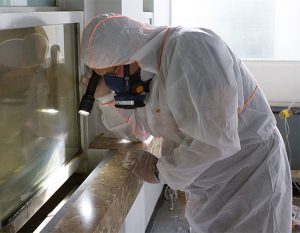 If upgrading, structural work and/or refurbishment is set to take place at any premises that you own or are responsible for, it will be necessary for you to have an asbestos refurbishment survey undertaken. The same applies if you plan to carry out more intrusive maintenance and repair work.
An asbestos demolition survey, meanwhile, will be needed if it is proposed that a given building will be entirely demolished. Such a survey is only described as a demolition one in asbestos guidance if the whole building is set to be demolished and removed; otherwise, it will be referred to as a refurbishment or pre-refurbishment survey.
If you are in any doubt about the importance or suitability of an asbestos refurbishment or demolition survey for your own building, you are welcome to contact Oracle Solutions' own experts for advice and guidance.
What's involved with an asbestos refurbishment and demolition survey?
Pre-refurbishment or demolition asbestos surveys are an intrusive and destructive inspection, as is typically necessary to gain access to all areas, including those that may be difficult to reach. Such aggressive inspection techniques may include lifting up carpets and floor tiles, breaking through walls, ceilings, cladding and partitions, and opening up floors.
The building or area where the survey is to take place should generally be unoccupied, in order to minimise risks to people on the premises. As far as reasonably practicable, the building or area should also not be operational, and all furnishings should be removed.
R & D surveys that are intended to identify asbestos so that it can be removed, rather than just 'managed', do not normally assess the condition of the asbestos, except to indicate areas of damage, or where additional asbestos debris may be present.
In some cases, however, the actual removal of asbestos may not take place for some time. In these instances, it is typical for the condition of the asbestos-containing materials to be assessed, which will help to ensure they are managed responsibly.
As a fully intrusive form of inspection, an asbestos refurbishment or demolition survey looks at areas hidden within the structure of a building. This is not least the case due to the wide range of places within a property where asbestos-containing materials can be present, including flue pipes and soil pipes, textured coatings, paper backings, cement sheets, insulating boards, panelled ceilings and under-cloaking tiles.
How much does an asbestos survey cost?
The price that you can ultimately expect to pay for an asbestos refurbishment or demolition survey is likely to depend on a range of factors, including where you live, the size of the property and your choice of contractor.
We take great pride here at Oracle Solutions in the cost-effectiveness of our asbestos surveys. For further information about this service, please do not hesitate to call 0844 2451762, or request a competitive quote online.
For a fast & free asbestos quote call

0844 800 0801

or request your quote online.
Oracle Solutions are experts in a wide range of asbestos consultancy services