UKATA Certified Asbestos Awareness Training Cost Guide for 2023
With asbestos known to pose perilous risks to human health and now banned from use in the UK, the importance of being fully aware of asbestos, where it can be found, and its dangers could surely scarcely be greater. These are key objectives in
asbestos awareness training
, which also covers such areas as the procedures to follow in response to any uncontrolled release of asbestos, and how asbestos risks can be avoided and managed.
Nonetheless, it is also crucial for organisations investing in asbestos awareness training for their employees to be well-informed on the costs associated with this form of training. So, what exactly do you need to know?
What is a UKATA certified course?
The UK Asbestos Training Association, or UKATA, is a widely trusted authority on asbestos training, including asbestos awareness training. This not-for-profit association approves its members to offer asbestos awareness training that complies with current HSE legislation, and regularly monitors its approved training providers to ensure they continue to do so.
Choosing a UKATA-certified course, then, gives you the peace of mind of knowing this is a form of training the association has scrutinised and approved for its high quality, and that it will be delivered by a competent and reputable training provider.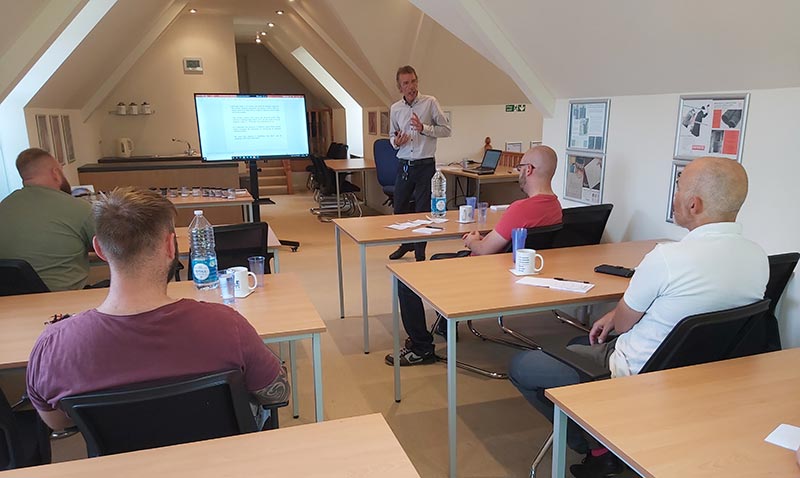 Why do I need asbestos awareness training?
Before we go any further, it is important to emphasise what asbestos awareness training is, and what it is not. UKATA-approved asbestos awareness training is designed to help employees avoid undertaking work that may cause disturbance to asbestos-containing materials (ACMs); it is not training to physically work with any form of asbestos.
For those who do receive training to work with this highly dangerous material, asbestos awareness training may form the first part of that training. Asbestos awareness training on its own, however, does not meet the legal requirements for working with the substance directly, as outlined under the Control of Asbestos Regulations 2012 (CAR).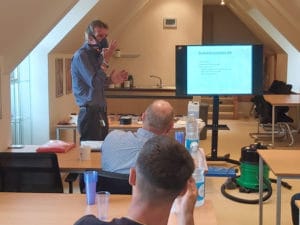 Nonetheless, any employees whose work could foreseeably expose them to asbestos are required to receive asbestos awareness training. It is an especially important form of training to be given to all demolition workers and workers involved in the refurbishment, maintenance and allied trades, where it is conceivable that the fabric of the building will be disturbed by their work – bringing with it the risk of ACM exposure.
In its syllabus for asbestos awareness courses, UKATA states that this course should be attended by a broad range of supervisors and trades personnel, including trainees. Examples that it cites include, but are not limited to, construction workers, general maintenance staff, plumbers, electricians, gas fitters, joiners, painters and decorators, roofers, plasterers, telecommunication engineers, heating and ventilation engineers, and many more.
Such professionals would only be exempt from asbestos awareness training if their employer can demonstrate that work will only be undertaken in or on buildings where ACMs are not present.
There are some other professionals – such as architects and building surveyors – who may require a more developed course, consisting of the core syllabus of the UKATA-approved asbestos awareness course, as well as a module that covers the interaction between the various duties under the Construction Design and Management Regulations and those within CAR.
Asbestos awareness (category A) training is not just a moral requirement for helping to minimise the risks of asbestos exposure; it is also a legal one for anyone who may conceivably come across asbestos, but is not required to work with it. This is made clear by Regulation 10 of CAR, which states that "every employer must ensure that [their] employee[s] are given adequate information, instruction and training where that employee is, or is liable to be, exposed to asbestos, or if that employee supervises such employees."
It should be noted that the syllabus for UKATA-approved asbestos awareness courses is concerned only with asbestos awareness training, as per paragraphs 232 and 233 of the associated Approved Code of Practice.
What will the course teach me?
Whichever asbestos awareness training course you ultimately choose, and from whichever training provider, if it is UKATA certified, you can expect it to include the minimum content outlined in the UKATA syllabus for this type of training. While training providers are allowed to provide bespoke or tailored training for the remainder of any training session, any UKATA-approved asbestos awareness training course must adhere to the required core content.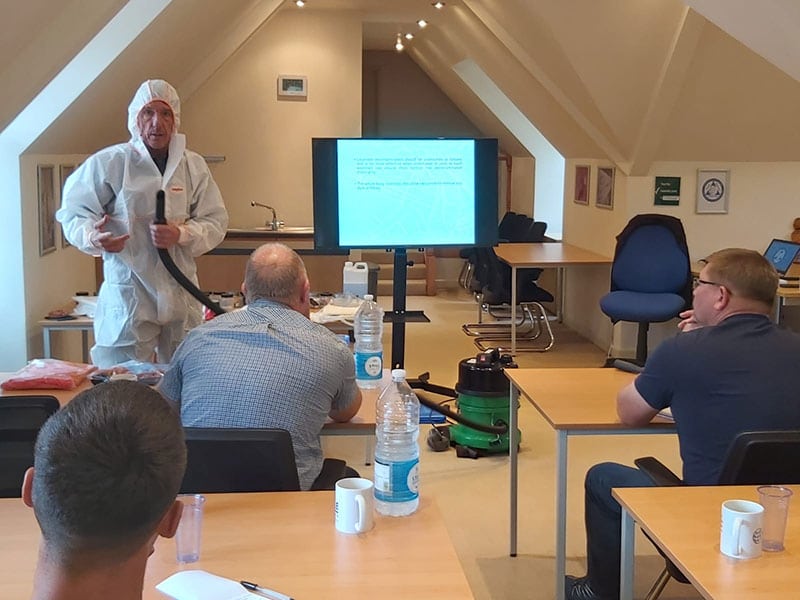 A UKATA-certified asbestos awareness course will educate you on the nature and properties of asbestos, and the impact this substance can have on health – including the heightened risk of lung cancer it can bring for smokers.
You can also expect to be taught on this course about the types and uses of asbestos, and where the material is likely to be present in buildings. In addition, this form of training will educate you on how you can avoid the risks of asbestos by understanding:
Where to obtain information on asbestos in premises prior to starting work;
What to do if suspicious materials are found;
How to use appropriate precautions in the workplace, including the risk assessment process, or seek advice on workplace precautions, with regard to the risks of asbestos;
Undertake work activities in a safe manner, and without putting yourself or anyone else at risk
Undertaking a UKATA-certified asbestos training course will also equip you with awareness of the key aspects of asbestos regulations, and their place in the broader context of health and safety legislation.
Finally, you can also expect to learn about the procedures that should be followed in the event of someone accidentally coming into contact with ACMs, and what the appropriate emergency arrangements would be.
How long is the course and how long is it valid for?
A UKATA-approved asbestos awareness training course consists of three to four hours' contact time. It is recommended that those undergoing such a course then arrange for some form of refresher training every 12 months, to help ensure their asbestos awareness is maintained.
However, the exact frequency with which refresher training should be ordered will depend on the needs of the individual. If you are responsible for workers who are likely to encounter asbestos particularly frequently as part of their work, you may consider arranging for refresher training more often than every 12 months.
With most asbestos awareness certificates only being valid for a year until they expire, it is important to check this aspect when you are comparing asbestos awareness training options.
Where are the courses held?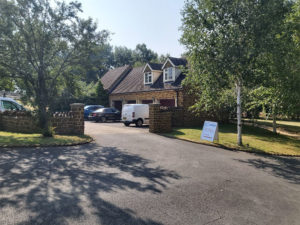 Here at Oracle Solutions, we hold courses throughout the UK, at our training centre and online. While our own bespoke training centre – located 10 minutes from our Kettering office – provides a beautifully private place to learn complete with free parking, we realise that this may not be practical for all of those who may be required to attend an asbestos awareness course.
This is why we can also come to your own site to deliver the training, if this would better suit your circumstances and needs. In addition, we have recently begun to deliver online training to help maintain responsible social distancing during the ongoing COVID-19 situation; please do not hesitate to contact us today about our industry-approved training.
How much does an asbestos awareness course cost?
Your training can cost from as little as £45 per person but how much you ultimately pay for an asbestos awareness course can vary, depending on where you undertake the course and how many people will be attending. It is therefore crucial to carefully scrutinise the relevance and quality of the course and training provider that you are interested in, while ensuring that you are always comparing 'like with like'.
Choosing online training over in-person training could enable you to save on some of the travel costs associated with asbestos awareness training.
Alternatively, you might favour in-person training. In this case, we can deliver asbestos awareness training at our Northampton training centre, which is suitable for 15 delegates, at a cost of just £45 per person, plus VAT.
When you are looking to determine which asbestos awareness training option represents the best value for money – whether you are seeking to undergo it yourself, or investing in it for your employees – it is important to consider not just the headline price or even the course content, but also how the course is delivered. Here at Oracle Solutions, we take great pride in delivering asbestos awareness training that is as compelling and memorable as it is practical and informative.
The key points of a UKATA certified asbestos awareness course
Recognised by the HSE
Legally compliant with current regulations
Held in person or online
Held throughout the UK
Costs from as little as £45 (+VAT) per person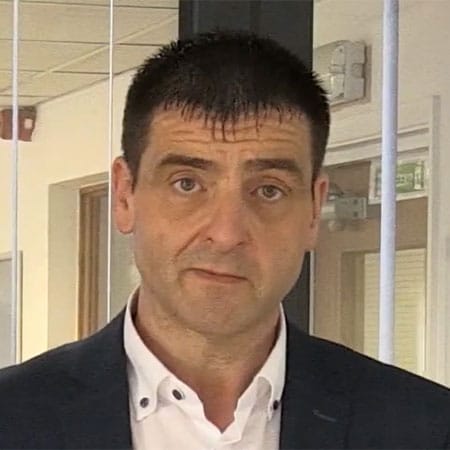 Written by Jess Scott
Jess Scott has been an all-round asbestos consultant since 1996. That's nearly 3 decades of asbestos knowledge. He spends his time sharing that knowledge with the team at Oracle and with their clients. Jess's goal is, and always has been, to use my expertise in helping people to comply with the law. This legal compliance ultimately helps to protect everyone from the harmful effects of asbestos. Jess has acted as an asbestos expert witness in legal cases and is involved in many asbestos educational activities throughout the UK.