Licensed & Accredited Asbestos Surveys, Asbestos Removal & Air Testing in Surrey
Undertaking asbestos surveys, asbestos removals and air testing in and around Surrey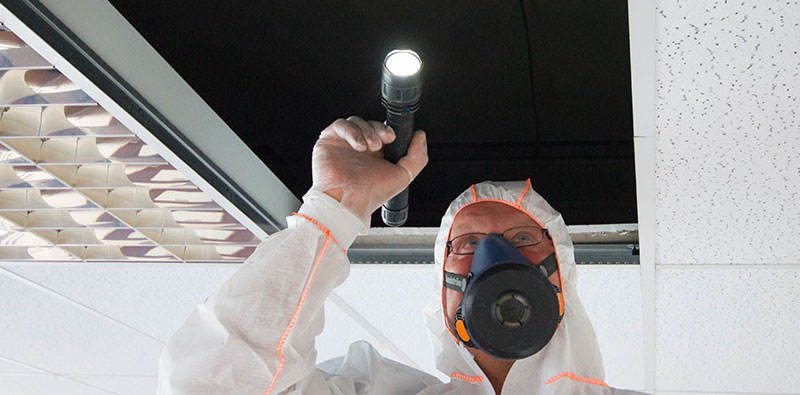 UKAS Accrdited Asbestos Surveying Service
Oracle Solutions have an experienced team of asbestos surveyors who will carry out any asbestos survey you require in or around the Surrey area. We are fortunate enough to have a locally based team who are continually working to meet the high demands and standards required by the latest asbestos legislation. We are able to provide our clients with asbestos management surveys, asbestos demolition surveys, asbestos refurbishment surveys and asbestos re-inspections.
As part of our asbestos surveying service, Oracle Solutions will provide you with an easy to read UKAS accredited asbestos survey report, which will provide you with all the information you require.
Our asbestos team are UKAS accredited and able to provide you with the reassurance that we are more than qualified to undertake any asbestos survey you may need. Our asbestos surveyors are strategically based to enable us to meet the high demand for asbestos surveys for our large client portfolio which ranges from retail shops to large firms.
Due to our wealth of experience and our diverse client base, we have also been heavily involved in some of Surrey's most intricate sites ranging from industrial factories to large hospital sites. If you are in the Surrey area and need an asbestos survey, then call us today to see how we can help you.
HSE Licensed Asbestos Removal Services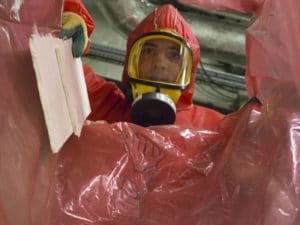 To support out surveying services, Oracle have a dedicated team of experts in asbestos removal in Surrey and the surrounding areas. Our HSE licensed asbestos removal specialists are working everyday to remove and dispose of asbestos containing materials that are found in the numerous buildings throughout the county.
Having such a team in place provides reassurance to our clients as we are available 7 days a week. As we are HSE licensed, we are able to provide our clients with peace of mind that the asbestos work we carry out, is done so correctly, safely and legally compliant.
Oracle Solutions are a one stop shop for all your asbestos removal and disposal needs. We are renowned for giving the best advice about asbestos removal and disposal, in a swift and professional manner. We pride ourselves on offering excellent customer service and guarantee you, that there are no other asbestos removal company like us in the Surrey area. To get your free quote call us today.
Oracle Solutions have undertaken numerous asbestos removal projects across the whole of the Surrey area. We have been involved in projects at buildings such as, The Odeon, Redhills and The Grotto Inn, Weybridge and have provided asbestos removal services to thousands of commercial buildings across the entire Surrey area. Read what our clients had to say about our asbestos removal work.
Asbestos Air Testing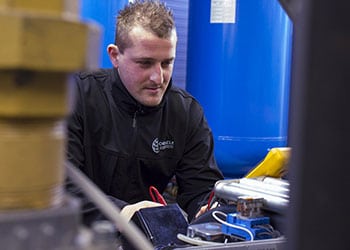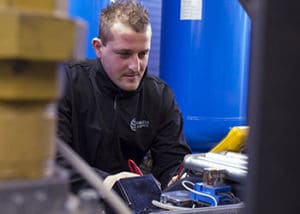 If you need an asbestos survey or asbestos removal work carrying out, then there is a good chance that you'll also be needing asbestos air monitoring and testing. Oracle Solutions has a team of asbestos air analysts based in Surrey who can carry out this work whenever you need us too.
All of the air analysts are UKAS accredited to give you reassurance that wherever you are, we will be there to provide you with the asbestos air monitoring and testing you need in a fast, professional and excellent manner.
The asbestos analysts can be with you any day of the week, at any time of the day, providing you with the best possible service. Once the asbetsos air analysts have completed their work, you will receive a certificate of analysis detailing the results of what was found.
Oracle Solutions has provided numerous air testing work to numerous businesses across the whole of Surrey. The asbestos services we provide can be anything you need, like carrying out an asbestos survey, undertaking asbestos removal work, or if you are concerned about the safety of your staff or members of public, asbetsos air testing. We are able to provide our clients with the peace of mind and reassurance they need, no matter what the situation is. We can confidently say that over the past 10 years, there is hardly anywhere in Surrey that we have not been to, to provide the air testing you may need.
For your fast, free and instant asbestos survey, removal or air testing quote call us on
0844 800 0801

or complete the form below.
Oracle Solutions are experts in a wide range of asbestos consultancy services