Asbestos Garage Roof Removal Cost Guide for 2021
Why should I remove the asbestos cement roof from my garage?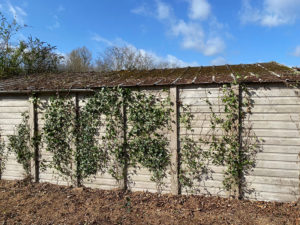 Asbestos cement roofing prior to the year 2000 was considered to be a miracle product. Fire and water resistant with a very long-life span. The asbestos cement sheets were preformed and very tough.
From around the 1930s through to the year 2000 asbestos cement garage roofing was the standard option. As well as being a great product they were inexpensive and had an abundant supply. This made them very popular. The downside was that these garage roof coverings contained asbestos. A product that if inhaled can cause fatal disease.
If your garage roof is leaking, looking worn and old, or is damaged, it will be very difficult to undertake repairs. Especially as it's a potentially deadly material that is no longer available. This is why people are now choosing to have their asbestos cement garage roof removed and replaced with a more modern and safer alternative.
How much does asbestos garage roof removal cost?
| Type of Garage | Cost + VAT |
| --- | --- |
| Single Garage | £945 |
| Double Garage | £1,400 |
How much an asbestos garage roof will cost to remove will depend on its size. Here are the average sizes. Your first job is to measure your garage.
Standard size of a single garage 3m x 5.5m
Standard size of a double garage 5.5m x 6m
Each garage will be slightly different. You may have a pitched roof for example.
These are minimum costs based on these standard sizes of a garage roof with little or no pitch and no other asbestos other than the roof. The cost of removing your asbestos garage roof will depend on several factors including:
The size of the garage roof
The pitch of the garage roof
Accessibility of the garage roof
Other asbestos such as:

Guttering
Down pipes
Side sheeting
Internal roof lining
On average asbestos cement garage roof removal costs £50 per square metre
Do I need an asbestos survey?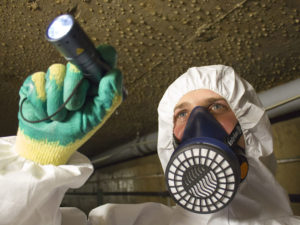 An asbestos cement roof is easily visually identifiable by a good asbestos consultant. Generally, a good set of photographs sent to the asbestos company will save you from needing an asbestos survey of your garage and roof.
However, if there are other products which cannot be identified such as internal roof linings etc. then you will need to have an asbestos surveyor come and survey your garage.
If you're not sure of anything then a survey will give you peace of mind knowing that all of the asbestos on or in your garage has been identified and can be removed safely by an asbestos professional protecting you and others.
The average cost of a survey of your garage will be £245.
What does an asbestos garage roof removal include?
You should check to ensure that the company you are using is an asbestos professional. The easiest way to be sure is to only use an HSE licensed asbestos removal company. If you do this then the garage roof removal will include:
A trained asbestos team with the right protection
Covering of any areas that need protecting
Barriers to keep people out of the work area
Usage of sprayers with special liquid to control asbestos dust
Careful removal of the asbestos sheets
Appropriate storage and transport of asbestos waste
A final detailed clean of the work area
On completion an asbestos waste certificate
There is much more to the garage roof removal than those listed. This is why asbestos garage roof removal should be carried out by professionals.
Can I remove the asbestos garage roof myself?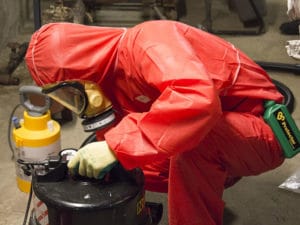 Asbestos is hazardous and only those with the correct training and safety equipment should attempt to remove it.
All in all, it is not recommended that you try and remove an asbestos garage roof yourself. You will not have the training or the safety equipment. You could potentially put yourself and others at risk. That could be a legal concern. If you did decide to do it yourself, if you were for instance fully trained and had the correct equipment, you would still have to legally dispose of the asbestos waste.
Asbestos waste disposal is very expensive. Just the waste from the removal of your roof is a big part of any professional's cost. In fact, if you work out your own time and the cost of equipment, tools etc. it would be more cost effective to let a professional who is geared up for the work to do it. It is safer and easier to leave it to the professionals.
The key points of asbestos garage roof removal cost
Any garage roof built before the year 2000 has a high probability of being asbestos
On average asbestos garage roof removal is £50 m2
You may not need an asbestos survey, speak with an expert first
Use an HSE licensed asbestos company to ensure competency
Its safer, cheaper and easier for an asbestos professional to remove your roof
Additional Resources About Asbestos Costs
For more information about asbestos removal, the types of removals, and costs see our growing resource of removal related information.
If you're looking for general asbestos removal information, then take a look at our asbestos removal service page.
For a fast & free asbestos garage roof removal quote call

0844 800 0801

or request your quote online.