Commercial Asbestos Surveys
Providing a full range of asbestos surveying services to businesses throughout the UK.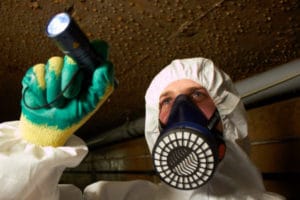 Oracle Solutions, offer a full range of asbestos surveying services that cover the latest survey types and techniques, which include all premises, buildings and locations. You can be sure that our services cater for all survey eventualities and requirements.
As a leading quality approved asbestos consultancy, all our asbestos surveyors and consultants are trained to the highest standards and as a minimum hold BOHS P402 Asbestos Survey/Surveying Certification and have a minimum of two years' survey experience.
All surveys, analysis of results and reporting is carried out to the highest standards and in full accordance with HSG264 Asbestos: The Survey Guide and HSG248 Asbestos: The analysts' guide for sampling, analysis and clearance procedures.
Oracle Solutions delivers a complete, professional asbestos survey solution to commercial customers throughout the UK. So, no matter where you are located, Oracle Solutions has the experience and capability to address and assist in addressing any asbestos issues that you may have.
Frequently Asked Questions
Below are some of the most frequently asked questions about asbestos removal services. If you cannot find what you are looking for try our 'about asbestos' section of the website, or 'contact us' with your question and we will be happy to help.
What types of property or premises could contain asbestos?
The full asbestos ban in the UK came into force late 1999. It is generally accepted that any building, premises or property constructed prior to the year 2000 could potentially contain asbestos. This is every type of property or premises; houses, garages, barns, hospitals, factories, retail units and offices. The list goes on.
What is an asbestos survey?
In laymen terms an asbestos survey is an inspection of a property or building which is designed to locate and identify asbestos containing materials. The survey should detail the exact location of asbestos, its extent or amount and its condition. Additionally, the survey should identify the type of material that the asbestos is or is in, it should also detail the actual type of asbestos that is present.
Once this information has been gathered (location, extent, condition, material & asbestos type) the survey should then assess the risk of any identified asbestos.
Asbestos surveys are undertaken for several reasons which are discussed in the 'asbestos survey type' section. Whatever the reason for the asbestos survey, the risks should be highlighted and be relevant to your needs. Once these risks have been identified, the survey should give you recommendations on how to proceed. These recommendations should be tailored to your needs and inline with why you had the survey undertaken.
Why would I need an asbestos survey?
There are several reasons why you would need an asbestos survey. The overriding reason for an asbestos survey is to protect people from the harmful effects of asbestos.
People can be at risk from exposure to asbestos for a range of different reasons. Although many think that the only people at risk are workers or contractors within buildings or the construction industry, this is not true. If asbestos is not managed correctly, everyone is at risk. This includes visitors and anyone entering buildings or places where asbestos is not managed correctly.
This is why there are laws that are in place to ensure that those managing premises or processes (such as construction, refurbishment or maintenance work) where asbestos could pose a risk, to ensure asbestos is managed properly.
So if you manage a building / property or you're involved in maintenance, refurbishment or construction in any shape or form, you have a legal duty to manage the risks from asbestos.
To manage the risks from asbestos you must know where the asbestos is and what the risks are. The only way to know this is to have an asbestos survey.
What types of asbestos surveys are there?
There are three types of asbestos surveys that Oracle Solutions provide. They are;
Is having an asbestos survey required by law?
If you are managing a property or involved in a process where asbestos could pose a risk to the public and you do not have the required information to reduce or eliminate that risk the answer is simply, yes.
The current asbestos regulations are 'The Control of Asbestos Regulations 2012' (CAR). Although asbestos survey work and requirements are not restricted to any single regulation there is a principal section relating to surveys. This is Regulation 4: The Duty to Manage Asbestos.
In brief, regulation 4 basically says that anyone in control of premises or property has a legal duty to manage any risk from asbestos. To do this they must identify the risks. The only sure way of identifying these risks is through an asbestos survey.
Is there a legal standard for an asbestos survey?
Yes. There is a Health & Safety Executive guidance document. This document details the required quality that an asbestos survey should be carried out too. It also details the exact information that an asbestos survey report should contain.
This HSE guidance document is Asbestos: The survey guide HSG264.
How do I ensure that I will get a quality asbestos survey?
Although all asbestos surveyors and asbestos surveying company's should undertake asbestos surveys inline with the HSE survey guide there are many that do not. The problem is, if you are buying an asbestos survey you have a legal duty of care to ensure that the company you use, knows what they are doing. Just using a company that says they know what they are doing is not enough.
This can cause you a big problem. Firstly, you may not be getting the information you need to comply with the law and people may be put at risk.
Secondly, you will be paying for something that may not be what you need. This would be wasted money and you will probably end up having to pay for another survey.
There are two ways to ensure that you are getting a quality asbestos survey inline with HSE guidance.
The first way is to undertake your own due diligence. For this you will need to read and understand the regulations and guidance, and ensure that you ask all of the right questions. You then need to gather the evidence. These questions will include details of experience, training, quality processes. The list goes on.
The second way is far easier and covers your legal duty of care. Use a UKAS accredited surveying company. You need to ensure that the UKAS accreditation is for surveying. This is easily done by asking for their UKAS number or certificate which will detail what is covered. The UKAS accreditation for asbestos surveying is '17020' and is detailed on the company's certificate.
UKAS basically check and do due diligence regularly of surveying company's in line with legal requirements of any surveying regulations and guidance. They only award the accreditation to those that meet the required standard. This means they do the hard work for you. So remember if you want to get the survey you need first time ask for the UKAS accreditation.
What happens during an asbestos survey?
Once it has been agreed that the correct type of survey is being undertaken there are several steps which need to be undertaken.
Step 1: Gather as much information from you as possible so that the survey will give you what you need. This includes information regarding why you need the survey, details of the property including who will be there and any access problems we may encounter such as locked doors.
Step 2: A survey team will visit the site to undertake the inspection. The inspection will depend largely on the type of survey being carried out. However, in general, surveyors will check every area of a property. This is carried out methodically, one area at a time whilst inspecting floors, walls and ceilings.
Step3: Should the survey team locate anything which they believe to be asbestos they will take a small sample which can be sent to the laboratory for analysis. When samples are taken, surveyors try to remove them from inconspicuous areas. Samples are usually about the size of a 50 pence piece. They are then sealed in a small bag ready for taking to the lab.
During the inspection, the surveyors will take relevant notes, photographs and if not available, will draw a floor plan which can be marked with any sample or asbestos locations.
Step 4: The last step is to produce the report for you. Reports are electronic and include photographs, plans and sample results. See 'What will my asbestos survey report contain?' section. Once the report has been quality checked it will be sent to you electronically.
How do I know what type of asbestos survey I need?
There are three types of asbestos survey. Knowing which one you need is key in managing any risk from asbestos.
1: An asbestos management survey
This type of survey pretty much does what it says. It's designed to help you manage your asbestos. The management survey will locate and identify asbestos materials which may pose a risk from everyday usage and occupation of a property. This includes minimal everyday maintenance such as changing light bulbs or cleaning.
This survey is designed not to cause major damage to the property. All areas which can be checked and surveyed without causing damage will be inspected.
The survey report will contain risk assessments for the identified asbestos and recommendations of any actions you may need to undertake. This asbestos survey is the first step in managing your asbestos and should form part of your asbestos management plan.
In most cases, asbestos located during this type of survey does not need to be removed. As long as it is in a good and safe condition it can remain and be managed.
If you are undertaking or having refurbishment works, demolishing or part demolishing a building you will need to consider an asbestos refurbishment survey or an asbestos demolition survey.
2: An asbestos refurbishment survey
As the title suggests this type of asbestos survey must be undertaken before you undertake any refurbishment works or heavy maintenance works which may disturb the fabric of the building or property.
This survey will include intrusive surveying techniques which are designed to locate any asbestos materials which may be disturbed during the planned refurbishment. How intrusive the survey will be depends on your refurbishment plans and are tailored to suit. With this survey it is usual that identified asbestos is removed prior to the refurbishment.
If part of your works is going to include partial or full demolition of a building you will need to have an asbestos demolition survey.
3: An asbestos demolition survey
As before the name of this survey details when it is required. If you are undertaking part demolition or full demolition of a building or property, this is the survey you will need. This survey has the most intrusive inspection techniques. This survey is designed to find asbestos which may be hidden in the construction of a building and as such will require surveyors to access and inspect areas which will be uncovered during a demolition.
As with the refurbishment survey, any asbestos located during this survey will generally need to be removed prior to the demolition works.
What will my asbestos survey report look like?
For more information about the asbestos survey report and the information contained within it see our asbestos survey report section.
Request an Asbestos Survey Quotation
If you would like a fast and free asbestos survey quotation, please complete the enquiry form below and one of our team will be in touch as soon as possible.