Oracle take delivery of a new bespoke fleet of asbestos removal vans
Oracle Asbestos Solutions has just taken delivery of a fleet of six brand new bespoke built, asbestos removal vans. These additions to our growing fleet of vehicles are specifically designed to deliver safety and quality on all our asbestos projects.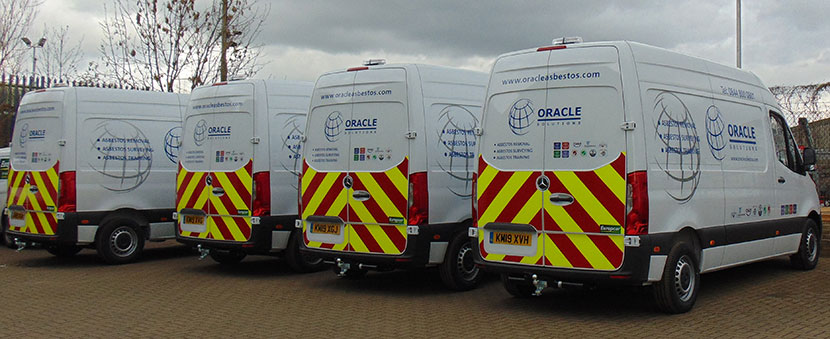 The Oracle team have spent many months going over the internal and external design of these vehicles with Mercedes. After a lot of planning and discussions, these vans have added a whole new dimension to the company's fleet.
With safety and quality in mind, the vehicles are fully fitted with asbestos waste compartments constructed from impermeable materials. These allow for the decontamination and safety of both the asbestos removal team and our clients. In addition, the vans contain bespoke racking and securing anchors to ensure all asbestos removal equipment and tools can be transported safely. Moreover, as you would expect from Mercedes, the passengers and driver are well looked after with state-of-the-art environment technology, navigation system, phone system, parking sensors, all-round camera system and comfortable captain-style seats.
In Summary
When it comes to asbestos removal, everything counts and Oracle Asbestos Solutions takes this very seriously. For us, having the right tools for the job is critical and these new vans are an essential part of the tools needed for Oracle to carry out our work.
Watch this space for more innovative asbestos removal improvements.