What are the risks and challenges of asbestos removal in the retail sector?
Once a widely used material in UK construction on the basis of such factors as its relative affordability, availability, strength, and effectiveness as an insulator, asbestos gradually became notorious over the course of the 20th century.
Asbestos was first commercially mined in the middle of the 19th century, and saw especially heavy use in UK buildings from around the 1950s to the 1980s. This period coincided with a boom in the construction of retail premises – including shopping centres and out-of-town retail parks – so it should be no great surprise that many of those buildings still contain asbestos today.
Towards the end of that period, it became more widely known among the public that asbestos posed potentially very serious risks to human health. Inhalation or ingestion of the substance came to be associated with various often fatal diseases, such as mesothelioma and asbestos-related lung cancer.
As political pressure grew, the use of asbestos in the UK – including in construction – was finally banned in 1999. Since then, stringent regulations have been in place to help ensure the safe and responsible management of any asbestos that remains in buildings dating from the time when asbestos was still legally used.
If, however, you are responsible for managing the asbestos risks presented by a given retail property in the UK, you might be looking to not only manage any asbestos-containing materials (ACMs) on the site, but remove them altogether.
In that case, what are the essential things for you to know?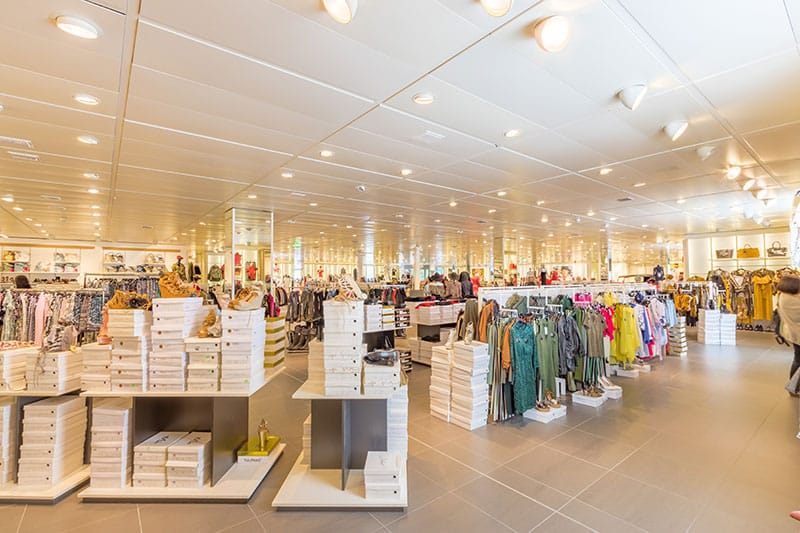 Historical use of asbestos in retail buildings
As mentioned above, the widespread legally permitted use of asbestos in the UK construction industry, occurred at the same time as a major expansion and transformation of the country's retail real estate following the Second World War.
A naturally occurring mineral found on almost all continents, asbestos was easily available for construction purposes. This, combined with such aspects as the material's toughness and fireproofing properties, helped to make it a "go-to" substance for use in all manner of construction products.
As a consequence of such widespread use, to this day, asbestos is still present in many UK retail buildings dating from before the year 2000. This includes in the following areas of such buildings:
Asbestos-containing sprayed coatings to steelwork and behind shopfront signage
Asbestos-containing thermal pipework insulation
Asbestos insulating board (AIB) ceiling tiles
AIB secondary – in other words, old – ceilings above newer ceilings, which may themselves contain asbestos
ACMs within ceiling voids, such as asbestos-containing pipework insulation, AIB cladding to steelwork, sprayed asbestos to steelwork, and/or AIB firebreaks
Asbestos-containing vinyl floor tiles
AIB to lifts and within lift shafts and escalators
ACMs within electrical switchgear
Remnants of ACMs from previous removal works.
It is important to appreciate that the above is not intended to be an exhaustive list, and that asbestos can be present in any part of a shop or store.
One of the reasons why asbestos can pose a particular risk to users of a building in which the material is present, is because if the substance is disturbed, individual fibres can be released into the air. Such fibres are not visible to the human eye, and it could be easy for anyone in proximity to released fibres – such as a shop employee or customer – to breathe them in without knowing.
Given the heavy foot traffic that active retail stores typically see, any poorly managed ACMs on such premises could pose a risk to a wide range of individuals.
The Control of Asbestos Regulations 2012 (CAR 2012) outline a "duty to manage" asbestos for those who manage non-domestic premises such as retail stores. The aim is to protect those who use such premises from being exposed to asbestos, with the associated potential health consequences.
The "dutyholder" for a given retail premises, as defined by CAR 2012, will be the owner of the premises, or the person or organisation with clear responsibility for maintaining or repairing the premises. The dutyholder will be expected to comply with certain duties, such as taking reasonable steps to determine whether asbestos is present on the site, and putting in place an asbestos management plan (AMP).
If you are the dutyholder for a given retail premises, and you do not comply with the relevant asbestos regulations, you could be hit with a fine and/or imprisonment. In the case of a serious breach, this could be an unlimited fine, and/or imprisonment for up to two years.
Challenges of asbestos removal in the retail sector
Many of the challenges that surround the asbestos removal process in retail premises are much the same as those for any other kind of property. However, there are also certain factors that make retail especially distinctive in this regard, such as:
Disruption to retail operations
With retail spaces being frequently open to the public, if you are looking to remove asbestos from such a premises, you will need to carefully manage this work in order to minimise disruption and ensure the safety of occupants and the public.
This is likely to require meticulous planning and coordination, with asbestos removal activities taking place outside of business hours, or in isolated areas of the store.
The complexities of asbestos removal in occupied buildings
With retail premises being so frequently occupied and used on a day-by-day basis, and taking a wide variety of forms – ranging from small shops to large shopping centres – the process of removing asbestos safely from such buildings can be complex.
It may not be immediately obvious, for example, whether you will need to temporarily close your retail premises to the public, in order to make a safe asbestos removal process possible.
However, an airtight working enclosure is generally required for asbestos removal operations, as well as enclosed transit routes and dedicated washing and changing facilities. So, it may indeed be the best choice to close the site for as long as asbestos removal needs to take place.
Compliance with regulatory requirements
As aforementioned, there is a need to stay on the right side of the relevant regulations when you are contemplating asbestos removal from a retail building for which you are responsible.
In the case of CAR 2012, the "duty to manage" includes a need to take reasonable steps to determine the location, amount, and condition of any ACMs that may be present on the site.
These regulations also require the dutyholder to assess the risk of someone being exposed to the identified asbestos materials, as well as to put together a plan setting out how the risks will be managed. It will then be necessary, under CAR 2012, to take the required steps to put the plan into action.
Cost considerations and financial impact
You might not desire the financial impact on your retail store arising from any period of closure in order to make asbestos removal operations possible. However, the adverse consequences for your business's bottom line of not complying with your legal and moral obligations to minimise asbestos risk, could ultimately be much greater.
In 2011, for example, Marks & Spencer was fined a cool £1 million for failures in its asbestos management – specifically, in relation to how it had carried out refurbishment work.
Indeed, we have previously reported ourselves here at Oracle Solutions, various instances of dutyholders in the retail or related sectors being hit with hefty fines as a consequence of not keeping on top of their asbestos management.
Strategies for managing asbestos removal in retail buildings
If you have made the decision to remove ACMs from retail buildings for which you are responsible, there are a number of steps that you will need to take. The below processes will be crucial ones:
Conducting thorough asbestos inspections
Presuming you are reading this as a dutyholder that does not know the full asbestos situation in the given retail property, arranging an appropriate asbestos survey will be a vital step in determining the location, amount, and condition of any asbestos present.
If you are set to have refurbishment or demolition work carried out at the site, a dedicated refurbishment or demolition survey will be needed. Otherwise, an asbestos management survey will enable you to locate – as far as reasonably practicable – any suspected ACMs on the premises.
This process will allow you to document the details about such ACMs that will enable you to make informed decisions on which ones to remove, and which ones to manage in place.
Developing a comprehensive asbestos management plan
A key requirement of CAR 2012 is to put together an asbestos management plan (AMP). The purpose of an AMP is to set out how asbestos-containing materials will be managed in the given premises. It should set out the strategy that the dutyholder will adopt in order to manage ACMs safely.
The AMP that you have in place for your own retail premises may set out that certain ACMs will be managed and left in place, while others may be removed.
There is no single, "one size fits all" way to manage asbestos on retail premises; much will depend on the particular circumstances of the site, and the nature and extent of the asbestos risk there.
Engaging qualified asbestos removal contractors
Before you arrange for asbestos removal work to be carried out at a retail premises for which you are responsible, you must also ensure the people who take on this work are suitably qualified.
Asbestos removal work comes under three broad categories in accordance with CAR 2012: licensed work, notifiable non-licensed work (NNLW), and non-licensed work.
So, not all work that you may look to have carried out on your site, will necessarily require a licence. However, with licensed asbestos work encompassing all work on asbestos-containing sprayed coatings, as well as asbestos-containing insulation and AIB, it is often a very wise choice to look specifically for a licensed asbestos removal contractor regardless.
Implementing proper safety measures during the removal process
Your number one priority when you are planning and coordinating the removal of asbestos from your retail premises – other than the priority to remove asbestos – should always be to maintain the utmost safety at all times.
However, the exact practices that you might put in place to protect anyone from inhaling or ingesting asbestos fibres during the removal work, will likely depend heavily on the circumstances of your site.
Such measures as the use of containment units, negative air pressure systems, and personal protective equipment (PPE) are likely to play a vital role in ensuring the safety of workers and preventing asbestos fibres from spreading.
Our experts can assist with your management of asbestos in a retail setting
With retail premises varying so greatly in the forms that they take, and being so frequently used by staff, customers, and other visitors, it is important not to underestimate the complexity that can be involved in the management and removal of asbestos from such sites.
Poor asbestos management and removal practices don't only put at risk the employees and team members who constantly use such buildings from one day to the next, but also the wider public. So, you must be vigilant about the above factors and risks when you are looking to address the issue of suspected or confirmed ACMs on your retail premises.
Are you a dutyholder for a UK retail property, with an interest in taking the most responsible steps in relation to asbestos in your buildings? If so, our team at Oracle Solutions can be on hand to provide a fast and free quote for any of our licensed and accredited asbestos services.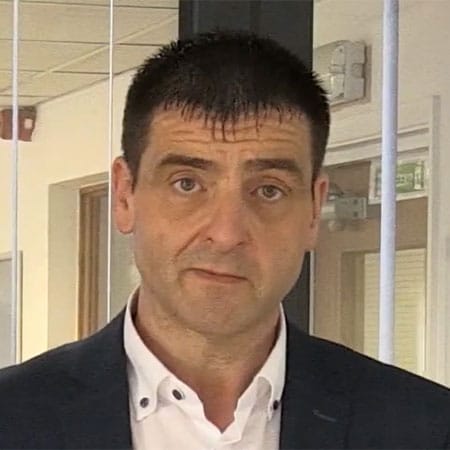 Written by Jess Scott
Jess Scott has been an all-round asbestos consultant since 1996. That's nearly 3 decades of asbestos knowledge. He spends his time sharing that knowledge with the team at Oracle and with their clients. Jess's goal is, and always has been, to use my expertise in helping people to comply with the law. This legal compliance ultimately helps to protect everyone from the harmful effects of asbestos. Jess has acted as an asbestos expert witness in legal cases and is involved in many asbestos educational activities throughout the UK.