How often must you have an asbestos survey?
Asbestos surveys play a vital role in the safe and responsible management of asbestos on a given premises, and the risks that the material can present. However, it might not be immediately obvious to many dutyholders what an asbestos survey is, or what their exact responsibilities are with regard to surveying.
So, we thought that for today's article, we would answer some of the questions people most frequently have about asbestos surveys – including how often they should arrange to have one undertaken.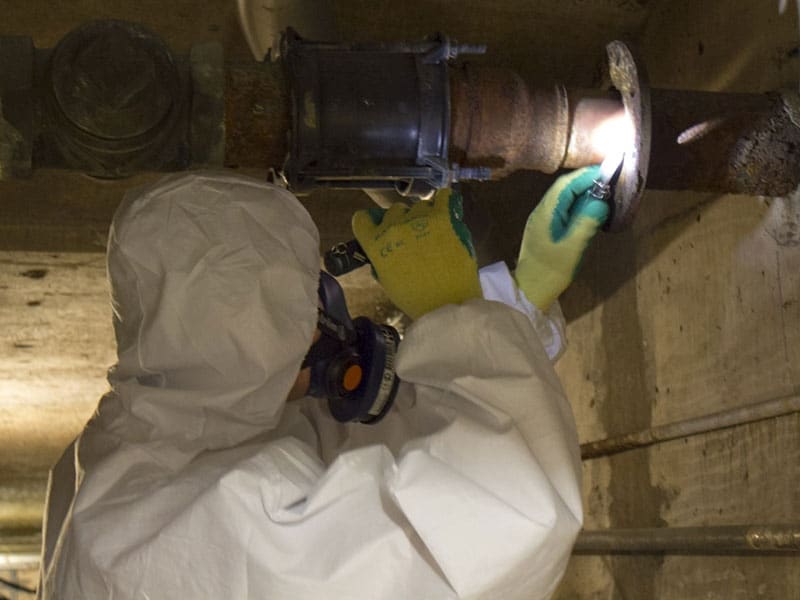 What is an asbestos survey?
An asbestos survey is a type of survey that is carried out in order to make a 'materials assessment'. This assessment is undertaken in order to:
Find asbestos-containing materials (ACMs) on a given premises and record what the material is, as well as the substance's location and quantity
Record the accessibility and condition of the material, and any surface treatment
Record the type of asbestos, whether by sampling or by presuming
What does the law say about asbestos surveys?
When anyone who is responsible for given non-domestic premises is seeking to determine their legal obligations as far as the management of asbestos is concerned, their first point of reference should always be the legal framework provided by the Control of Asbestos Regulations 2012 ('CAR 2012').
Regulation 4 of CAR 2012 sets out information about what is known as the 'duty to manage' asbestos. The person who has that duty is known as the 'dutyholder'.
CAR 2012, regulation 4 requires the dutyholder to – among other things – take reasonable steps to determine whether the non-domestic premises that they are managing contains any asbestos containing materials, and if so, the amount, location, and condition of those ACMs.
Asbestos was finally completely banned in the UK in late 1999, and if you own or control a non-domestic property that was constructed prior to the year 2000, it should already have some form of valid asbestos survey or asbestos register.
In fact, it is legally required for any commercial property built before the year 2000 to hold an asbestos survey. This type of asbestos survey is known as a 'management survey', which is required for the management of asbestos containing materials during the normal occupation and use of the given building.
How long is an asbestos survey valid for, and when should it be renewed?
Confusion often arises over the subject of asbestos surveys, and whether an asbestos survey only remains valid for a certain period of time before it has to be renewed.
And it turns out that there isn't a single, simple answer to this question, as it depends on such factors as the type of survey, the work you intend to do, and whether you are currently managing the asbestos.
If you own or control a commercial property in which asbestos is present, you will need to regularly manage and re-inspect the asbestos containing materials on-site. It is important not to get the requirements for an asbestos survey and asbestos management plan confused; these are two different things, and if you already have an asbestos management survey as well as an appropriate asbestos management plan, it is only the plan that will need to be regularly updated, rather than the survey.
Different requirements apply if you plan to carry out 'work' on a property, whether it is a domestic or commercial building. In this situation, you will need to arrange for a more detailed asbestos survey to be performed, known as a 'refurbishment or demolition survey'.
A refurbishment or demolition asbestos survey will generally remain valid for up to 12 months, unless you have managed the asbestos in the intervening time. If you have arranged for asbestos to be removed from your site, you will need to have any management plan updated to reflect this.
The importance of maintaining an asbestos register
An asbestos register is not the same thing as an asbestos survey or asbestos management plan. The term 'asbestos register' refers to a document that lists all identified or assumed asbestos in a building.
An asbestos register is produced following an asbestos survey, and should detail the results of that survey, encompassing the location, amount, and condition of asbestos containing materials in the given premises. You might choose to have this information set out in a table, or even in a plan of the building, with all ACMs clearly labelled.
It is the responsibility of the owner of the building to make sure an asbestos register is in place and is available to those who intend to undertake maintenance and related work on the premises.
You might choose to keep your asbestos register on paper or in an electronic format. Either way, you must ensure it is regularly updated, so that no one who occupies or uses the building – whether that person is an employee or a permanent resident – has their safety put at risk.
When do you need to update the asbestos register?
Once a management survey has been carried out for the premises, the only other circumstances in which you should need to update the asbestos register would be when you plan to make material changes to the property that fall outside the scope of the initial inspection.
You might have your asbestos register updated, then, whenever refurbishment, demolition, or extensive maintenance work is carried out on your site. It would be especially important to do so in situations where contractors are required to enter parts of the building in which asbestos could be present.
In the event of asbestos containing materials being found to be present in a property that you own or control, the regulations set out a legal duty to manage these potentially dangerous materials. This would necessitate, as part of the asbestos management plan, you arranging to have the asbestos materials inspected regularly, and every 12 months at the very least.
If it has been a while since you complied with this legal requirement, you may need to re-survey the property, as there is no guarantee that the ACMs' condition will have stayed the same since the last survey. If the materials' condition has indeed changed, the original asbestos survey will have ceased to be valid.
Book an asbestos survey from Oracle Solutions today
Hopefully, the above will have given you a good idea of the requirements that apply to you in relation to asbestos surveying.
To learn more about the asbestos surveys that our professionals at Oracle Solutions can undertake, and to book a survey in accordance with your needs, please do not hesitate to contact us today via phone or email.