Asbestos and Fire: Things You Need to Consider
Fire can have devastating effects on a building, especially when asbestos is involved. Asbestos Cement, commonly used as roof sheeting and cladding on commercial and industrial buildings, is particularly susceptible to the harmful effects of fire. At extreme temperatures, this product will explode, not only causing fragments of asbestos debris to be scattered throughout surfaces to the surrounding area (up to half-mile radius in some instances), but will release harmful asbestos fibres into the atmosphere, and can cause serious health issues for anyone nearby.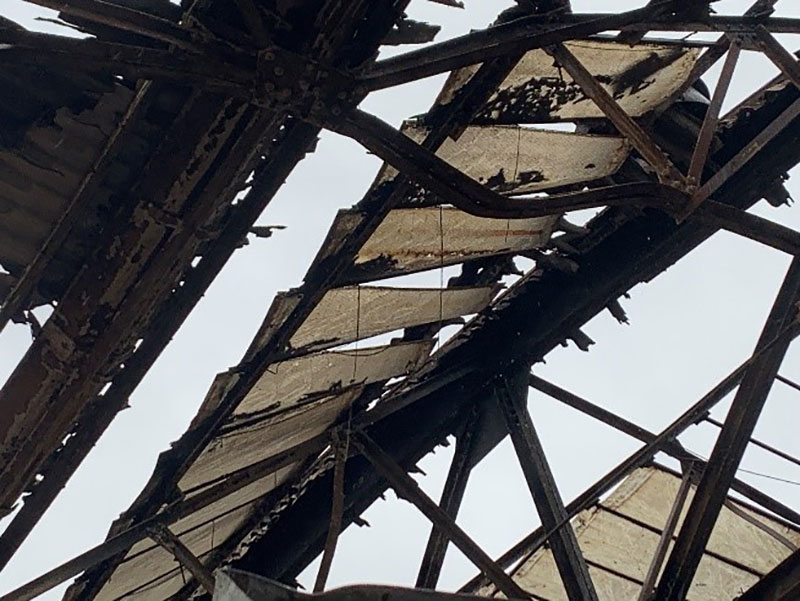 In good condition, Asbestos Cement is considered to be a low-risk product containing up to a circa 10-15% asbestos content, mixed with a cement material itself. The asbestos fibres in this material are bound within the cement matrix itself, meaning they will not readily release into the atmosphere unless disturbed. The process of heat stress on this material, or worst-case scenario, where it explodes, can cause the material to delaminate to a degree where the cement bond is significantly eroded. This causes the ratio of asbestos fibre within the material to increase, resulting in the risk factor changing.
If you are the legal owner or Duty Holder of a building where asbestos has been disturbed as a result of fire damage, there are several factors to consider to mitigate risk.
Has the Asbestos Cement exploded?
If asbestos cement has exploded, it is important to establish the full extent of how far the shattered debris has spread, especially if there are publicly occupied buildings, housing, highways and footpaths in close proximity. Oracle Solutions are UKAS accredited for asbestos management, refurbishment & demolition surveys, and have a wealth of experience dealing with fire damaged sites.
Asbestos Air Monitoring should be implemented
Asbestos Air Monitoring should be implemented to establish whether asbestos fibres have become airborne as a result of the explosion. This should be implemented at the source of the explosion, and more importantly, where there are surrounding occupied buildings, housing and public areas. This monitoring will generally be done in the direction of any prevailing winds and will act as documented evidence to counteract any claims of exposure to airborne asbestos fibres. Click here for further information regarding Asbestos Air Monitoring.
Asbestos Density (Water Absorption) Testing
Asbestos Density (Water Absorption) Testing is a specialist form of asbestos sampling, used to determine whether a product is considered to be of a licensed or non-licensed nature. This is calculated by measuring the percentage of water absorbed by the material over a set time period. During a fire, the cement bond on the material can significantly erode away, increasing the friability of the product as the ratio of asbestos fibre to cement bond increases. The results of this test will be particularly important for deciding on the methods required and associated costs for future asbestos removal works. Click here for further information on Asbestos Density (Water Absorption) Testing.
Planning the Asbestos Removal clean up works
The scale and complexity of planning asbestos removal clean up works can vary significantly based on the degree of the fire and extent of the associated damage, particularly where the Asbestos Cement has exploded. This will require careful planning and execution. Oracle Solutions are fully licensed by the HSE for asbestos removal works and will use their knowledge and experience of dealing with previous fire damage projects to ensure a safe and cost-effective solution.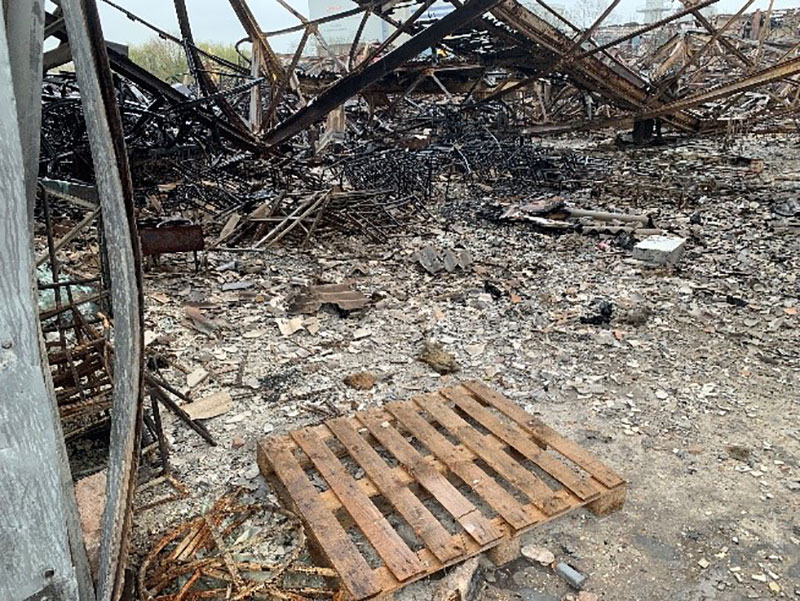 Our team of industry experts are ready to take your call and will talk you through the steps and available options, to ensure you are getting what you need. For further information on how to manage the risk of asbestos during a fire, please contact one of our team of industry experts on 0844 800 0801