Eight Demolition and Asbestos Contractors Admit Involvement in Bid Rigging and Collusion
Concerns have erupted about widespread corruption in the UK demolition sector, with the news that 10 demolition contractors in the UK have been accused of illegally colluding in order to rig bids for demolition and asbestos removal contracts.
That is the provisional finding of an investigation by the Competition and Markets Authority (CMA) – and eight of the affected companies have admitted to the practice, which is in violation of market competition laws. The other two named companies, however, have not admitted guilt.
Some 19 contracts were impacted by the bid rigging, for largely London-based projects with a collective worth of more than £150 million.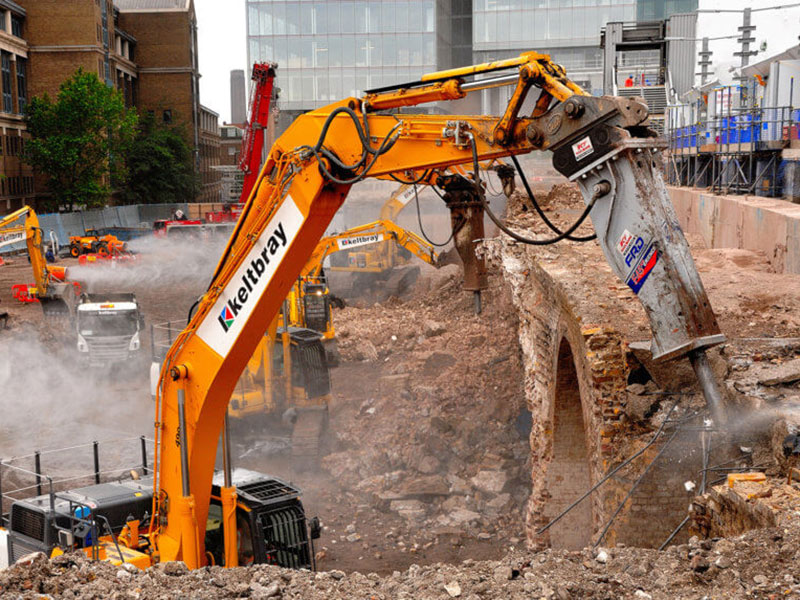 What are the details of the wrongdoing by the affected contractors?
The CMA begun its investigation in March 2019. The competition regulator went on to provisionally conclude that the contractors had colluded on prices through illegal cartel agreements when they submitted bids in competitive tenders for contracts. The guilty firms rigged these bids while intending to deceive the customer that they were competitive, even though this was not the case.
The bids were rigged through one or more construction firms agreeing to put forward bids that were deliberately priced so that they would lose the tender – a practice known as "cover pricing".
Furthermore, the CMA said it had provisionally found that seven of the accused companies, on at least one occasion each, had involved themselves in arrangements whereby the designated 'losers' of the contracts were set to receive compensation from the 'winner'.
While there were varying levels of compensation involved across these cases, in one instance, it amounted to more than £500,000. Some companies tried to conceal this element of their illegal behaviour through the production of fake invoices.
What companies have been accused of bid rigging?
The following companies have admitted that they were involved in at least one instance of bid rigging between January 2013 and June 2018: Brown & Mason, Cantillon, Clifford Devlin, DSM, John F Hunt, Keltbray, McGee, and Scudder.
Two more businesses that the CMA has provisionally found to be guilty, but which have denied involvement in bid rigging, are Erith and Squibb.
Seven firms were provisionally found by the watchdog to have been involved in compensation arrangements, as well as cover pricing; these are Brown & Mason, Cantillon, Scudder, McGee, DSM, Erith, and Squibb. Again, Erith and Squibb have not admitted guilt to this practice.
Several of the accused companies have already issued statements admitting to their guilt. One of these is Keltray, which said that it "acknowledges the findings relating to isolated activities of a previous management team in a subsidiary business."
Brown & Mason also confirmed that it had "agreed to settle in relation to two historic, unconnected and isolated instances that took place under previous management nearly a decade ago."
What projects were affected by the suspected cartel activity?
Schemes at a wide range of sites – mostly in London – were potentially impacted by the suspected wrongdoing by the aforementioned companies.
These included projects at the likes of the Metropolitan Police Service training and operations centre in Hendon, the Bishop Centre in Maidenhead, Oxford's Tinbergen Building, Lots Road Power Station in London, a Civic Centre scheme in Coventry, and an underground car park in High Wycombe.
Other potentially impacted projects were at London's Bow Street, 18 Blackfriars Road, and 33 Grosvenor Place, to cite just a few examples.
What happens next?
The watchdog has given all 10 companies an opportunity to make representations in response to its in-depth provisional conclusions – including the level of fines proposed – that they have now received from the CMA. A final verdict will be handed down later in 2022.
The competition regulator has the power to fine companies as much as 10% of their global turnover, as well as to pursue the disqualification of directors through the courts. Companies are also able to receive discounts on their fines if they cooperate with investigations.
Regardless of what the final verdict looks like, the seriousness of the regulator's provisional findings cannot be in doubt.
In the words of the CMA's executive director for enforcement, Michael Grenfell: "The construction sector is hugely important to Britain's economic wellbeing. Bid rigging can result in worse deals, which can leave businesses – and sometimes taxpayers – out of pocket.
"This is unacceptable, and the CMA won't hesitate to come down hard on these activities and impose appropriate fines."
Would you like to learn more about what our own team at Oracle Solutions can do to bring your organisation the benefit of fully compliant asbestos management services? If so, you are welcome to request a fast and free quote from us; simply call the Oracle team today.