Asbestos in hospitals: a silent killer of healthcare workers
More than a generation on from the importation and use of asbestos having been banned in the UK, it is clear that the once extensively used fibrous silicate mineral is continuing to take lives across the country. This includes in relation to asbestos exposure that occurs in hospital buildings.
Once a go-to material in the construction industry – including in the building and refurbishment of UK hospitals – asbestos was finally banned, in all its forms, in this country in 1999. But the substance is still the UK's number one work-related killer, being responsible for around 5,000 deaths every year.
Why is that the case, so long after the complete ban on all types of asbestos? Well, one reason is the long latency period that frequently applies to asbestos-related diseases such as mesothelioma and asbestos-related lung cancer. In some cases, such conditions might not become apparent in the sufferer until five decades after they ingested or breathed in asbestos.
Another factor is the fact that asbestos is still present in so many UK buildings – including hospital premises – that were constructed prior to the year 2000. To this day, there is no automatic requirement for any and all asbestos-containing materials (ACMs) to be removed from hospital buildings in the UK, even where their presence is known.
Recently, fresh attention has been brought to this saddening situation by The Sunday Times, which has launched a campaign calling for more proactive action in relation to asbestos in UK buildings.
An article in the newspaper spotlighted several real-life tragedies arising from the continuing asbestos risk in UK hospitals – including that of NHS nurse Guru Ghoorah, who passed away from mesothelioma, aged just 45.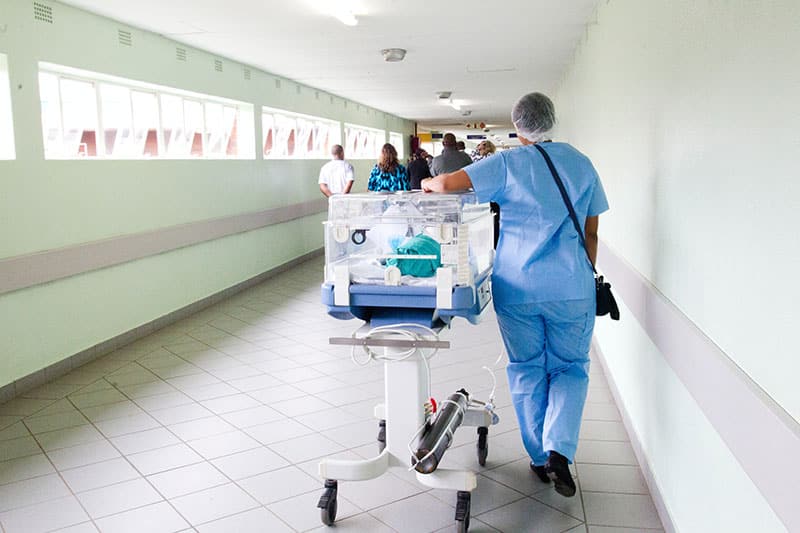 Guru Ghoorah's case: an avoidable tragedy
The Sunday Times' article on Mr Ghoorah's case, entitled "The hospitals my husband worked in were full of asbestos. It killed him at 45" carries quotes from his wife and fellow nurse, Meenakchi, who recalled the "very moving" scene when hundreds of people turned up at the crematorium to say goodbye; "friends and colleagues came, and there were former patients who told me he had changed their lives."
Mr Ghoorah had worked as a trainee nurse and healthcare support employee at hospitals in Essex from 1993 to 2003. It is believed it was at these premises where he was exposed to the asbestos that ultimately killed him.
After seeking medical advice for symptoms such as shortness of breath, weight loss and a pain in his left shoulder in September 2012, Mr Ghoorah was eventually diagnosed with mesothelioma – an almost always fatal form of cancer that is strongly linked to asbestos exposure. He passed away of the disease in March 2013.
And there was very little room for doubt as to the circumstances that put Mr Ghoorah's health – and ultimately, his life – at risk. In a statement prior to his death, he recalled that he frequently saw broken and damaged asbestos from ceiling tiles, panels, and lagging on pipes in wards and corridors.
Such memories of Mr Ghoorah's were especially significant, given that ACMs present the greatest health risk when they are damaged, due to the considerable scope for people nearby to breathe in loose asbestos fibres.
It can be no great surprise, then, that four NHS trusts with responsibility for managing hospitals were ultimately ordered to pay compensation to Mr Ghoorah amounting to £650,000 in total.
The lingering presence of asbestos in hospitals
Although – as aforementioned – the importation and use of asbestos in the UK was completely banned in 1999, this was not sufficient to make the lethal material a mere "concern of the past".
Certainly, the statistics that have been gathered over the years tell their own story about the persistent presence of asbestos in hospitals. In 2018, for example, a Freedom of Information (FoI) request sent to all 243 of Britain's NHS trusts found that of the 211 trusts that replied, 198 of them stated that ACMs continued to be present in their buildings. So, in the case of more than 90% of respondents, asbestos still existed in premises for which they were responsible.
Similarly, research that focused on NHS premises and buildings in London and Scotland found that, in the case of buildings that had been surveyed, two thirds still contained asbestos. The research in question was carried out by the Labour Research Department at the TUC's request, and discovered that the carcinogenic substance was still present in at least 451 NHS premises and buildings in London, and 695 in Scotland.
It is important, however, to appreciate that the issue of asbestos in UK hospitals is not a numbers one alone. After all, the policy of the UK Health and Safety Executive (HSE) continues to be that, as long as asbestos is in good condition and not disturbed or damaged, it presents a "negligible" risk to health.
So, it is crucial to understand some of the more specific circumstances of asbestos in hospitals that can impact on the exact risk. Many UK healthcare premises are quite old, with some of their fabric dating as far back as the Victorian era, and asbestos was particularly heavily used in construction between around the 1950s and the 1980s.
ACMs that were installed in hospital buildings around the mid-20th century – such as in large boiler houses, around pipework, and under floor voids/subways – will not necessarily be in the same condition now as they were then. As such materials deteriorate with age, there could be a heightened risk of them releasing dangerous asbestos fibres, unless action is taken to manage and/or remove them.
The potential risks from asbestos are also not necessarily uniformly the same for every person who may spend time on hospital premises. Historically, hospital maintenance workers have frequently worked in cramped and difficult conditions within service risers and service ducts. Such workers could be at particular risk of breathing in asbestos, and subsequently dying from related conditions; indeed, many will have undoubtedly already done so.
Rising concerns and calls for action on hospital-based asbestos
The aforementioned combination of circumstances helps to explain why so many observers have reached the conclusion that it is no longer sufficient to simply leave historical asbestos-containing materials (ACMs) in place and manage them.
Such observers include The Sunday Times itself, which has launched a campaign for the UK Government to "draw up a plan to remove all asbestos from non-domestic buildings, starting with schools and hospitals."
The newspaper reasoned: "Policy is to leave asbestos where it is unless it is disturbed and damaged, but with many lightweight prefabricated structures built in the 1950s, 1960s and 1970s in a state of disrepair, this is no longer a viable policy and could be putting children, teachers, and health workers at risk."
Concerns have become particularly acute in light of the lack of Government action on the issue. Only last year, the UK Parliament's Work and Pensions Committee carried out an inquiry into the approach taken to managing asbestos.
The committee subsequently released a report recommending that the Government embark on a 40-year programme of removing asbestos from all public buildings. Alongside this, the committee recommended that a national digital register be created, making clear all the locations where asbestos is found, and in what condition.
The Government, however, rejected both recommendations. Both cost and the required effort involved were cited as reasons for turning down the idea of a digital database. In addition, the Government argued that "HSE's experience to date is that the assumption underpinning this recommendation – increasing the availability of information to the public leads to improved health and safety performance – may not be the case."
Such was the asbestos removal industry's disappointment at the UK Government rejecting the notion of a national asbestos database, that it decided to make such a move itself. This work was undertaken by the National Organisation of Asbestos Consultants and the Asbestos Testing and Consultancy Association (ATaC), which discovered that almost eight in 10 (78%) of the 128,761 buildings they inspected contained asbestos.
Tragic stories, and an urgent need for solutions
Sadly, one only needs to perform a quick online search for the latest news around asbestos, to find further examples of tragic losses and legal battles in relation to asbestos-related disease.
The Sunday Times, for instance, also cited the example of Jane Preston, who died of mesothelioma just three months following her diagnosis, aged just 64. She had first come across asbestos during her time as a records clerk in one hospital in the 1970s, and then in another hospital building in the 1990s, after she had trained to become a nurse.
In conversation with her lawyers, Ms Preston had said that she often encountered dust and debris on files, and that this probably contained asbestos from overhead pipe lagging.
It is difficult to envisage that we will cease to hear such stories at any point soon. The UK may have long moved on from the era when construction workers were using asbestos to build hospital premises. But as we touched on above, the risks posed by asbestos already present in such buildings could well increase, instead of decreasing or staying the same.
As the Royal College of Nursing's head of health, safety and wellbeing, Leona Cameron, was quoted as saying in The Sunday Times' story: "This is a ticking timebomb that we just can't ignore any more. Our hospitals are crumbling – there is a backlog of hospital maintenance that is waiting to be carried out that would cost £10.2 billion to complete.
"Asbestos was widely used all over hospital buildings and if those buildings are in disrepair, then there is a higher risk of people being exposed to it."
Much more needs to be done to guard against the risks posed by hospital-based asbestos  
Hopefully, our words above – and those of the quoted well-placed observers – will have helped you to appreciate that asbestos in hospitals is not a mere "historical" issue. The substance is still present across the UK's hospital buildings, and can – and does – still kill.
With all this in mind, there is clearly an urgent need for greater action to help protect hospital staff, patients, and the general public from the risks of asbestos. Such action needs to include efforts to raise awareness, and advocation of the management and removal of asbestos, to help prevent future tragedies.
Would you like to have a discussion with Oracle Solutions' own team about the steps you can take to better manage asbestos risks on a site for which you are responsible? If so, please don't hesitate to contact us to request your free and fast asbestos quote.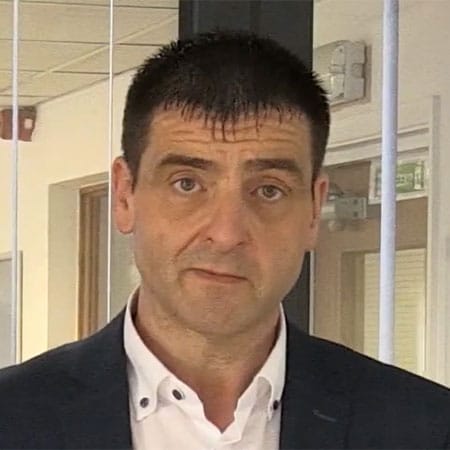 Written by Jess Scott
Jess Scott has been an all-round asbestos consultant since 1996. That's nearly 3 decades of asbestos knowledge. He spends his time sharing that knowledge with the team at Oracle and with their clients. Jess's goal is, and always has been, to use my expertise in helping people to comply with the law. This legal compliance ultimately helps to protect everyone from the harmful effects of asbestos. Jess has acted as an asbestos expert witness in legal cases and is involved in many asbestos educational activities throughout the UK.