Asbestos in Hospitals: What are the Risks?
In recent years, recurrent news headlines have provided a reminder that asbestos is by no means absent from hospitals in the UK. A BBC News story in 2018, for example, reported that
about nine out of every 10 NHS trusts said they had hospitals containing asbestos
. The year before that,
another BBC News article
stated that 94% of hospitals in London had asbestos on their premises.
Of course, such data should not necessarily be greatly surprising. Many of the UK's hospitals were built long before the final banning of asbestos in the UK in 1999, including in the period from the 1950s to the 1970s when the substance saw particularly frequent use.
Any building in the UK that was constructed before the year 2000 can be assumed to be likely to contain asbestos, and hospitals are certainly not exempt from this. But how concerned should we be about the continued presence of asbestos in healthcare buildings, and what needs to be done to responsibly manage the risks such materials might present?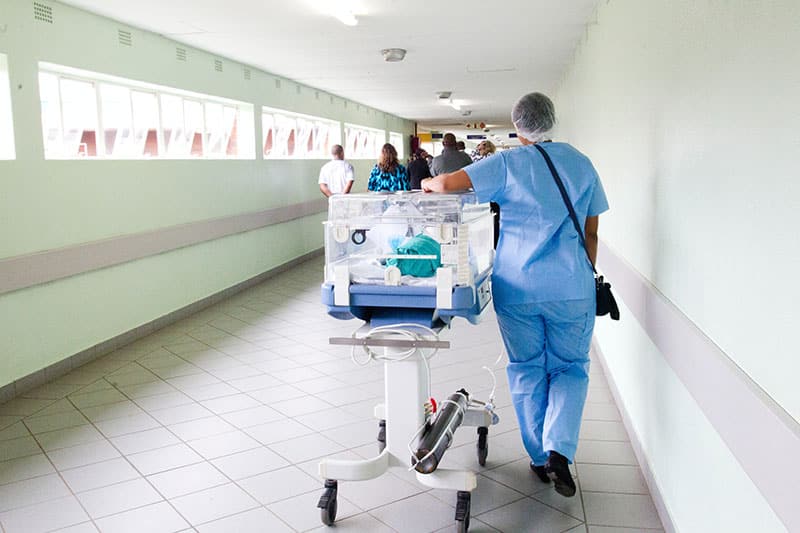 A lingering legacy of the 'asbestos century'
Asbestos and how it is managed in hospitals is such a concern, of course, because of the very serious dangers to health that this substance can pose. The inhalation of asbestos fibres is associated with the long-term development of deadly diseases such as lung cancer, asbestosis, and mesothelioma – three conditions which, together, continue to cause more than 5,000 deaths a year in the UK.
While asbestos has long ceased to be used in the construction of hospital buildings, the 20th century can be truly considered to have been the "asbestos century". Although the adverse health effects of asbestos were first documented as early as 1897, the material was widely used in the building industry until its use in construction materials was finally banned in the UK in 1999.
The legacy of such sustained asbestos use remains with us today, and the risk is not merely theoretical. The BBC reported in its 2018 story that in the period from January 2013 to December 2017, 352 claims were made against health trusts by people who had developed asbestos-related diseases in NHS buildings. The trusts said that these claims led to payouts of around £6.8 million.
In the words of the late medical doctor who specialised in sexual health, Mags Portman, who was diagnosed with mesothelioma in January 2017: "There is a cruel irony thinking that asbestos is still present in hospitals when people go there to be made better, and they may well be exposed to something which they're not aware of."
She expressed the belief that she may have come into contact with asbestos several decades earlier, during her time as a junior doctor at south Lanarkshire's Law Hospital. She passed away from her illness in February 2019, at the age of 44.
What is the continued nature of the risk today?
There can be no doubt that asbestos does remain present in a wide range of areas within UK hospitals today.
Asbestos-containing materials (ACMs) take the form of asbestos lagging used as thermal insulation for pipes and boilers. During their time of legally permitted use, sprayed asbestos and asbestos insulating board (AIB) were also used for thermal insulation, fire protection, partitioning and ducts, while asbestos is also contained within some ceiling tiles, floor tiles, textured coatings, and cement roofing and guttering.
In and of itself, however, the mere presence of asbestos in hospitals should not be significant cause for concern. It is likely that the specific control measures put in place at a given hospital, and how the material is being managed, will be a much greater determinant of the level of risk posed by asbestos to users of the hospital buildings.
The Control of Asbestos Regulations 2012, or CAR 2012, put in place a legal requirement for asbestos in non-domestic properties – such as healthcare buildings – to be managed. And NHS Improvement responded to the BBC's story in 2018 by stating that strict regulations meant asbestos in buildings was registered and safely contained.
What, exactly, do those regulations require duty holders to do? The below is not an exhaustive rundown, but these are just a few of the steps needed in order to achieve compliance with CAR 2012:
Having asbestos management surveys carried out for the inspection of hospital buildings
Creating an asbestos risk register that should then be regularly updated, and provided to contractors or maintenance personnel carrying out planned works
Devising an asbestos management plan
Providing asbestos awareness training to workers who have a high likelihood of encountering asbestos over the course of their typical working day
Arranging for appropriate asbestos surveys and testing to be carried out prior to the commencement of works, to determine whether there is any threat to health
Hospital buildings, however, are not just any non-domestic properties. Particular consideration needs to be given to the sheer complexity of such buildings, with the substance likely to be present in such areas as hospital boiler rooms, staff canteens and the underground pedestrian tunnels that often link hospital buildings.
That complexity will probably be heightened further by the unique challenges for asbestos management posed by each individual hospital under an NHS trust's care. A given building may house various types of asbestos, for example, and some of those materials might be located in more public areas than others, or subject to a greater level of degradation.
The challenges involved in managing asbestos in such premises are likely to have been exacerbated in recent years by the need to keep wards open and clinical services running on a backdrop of ever-greater financial pressures on health budgets.
Allow us to help you keep on top of asbestos management in your hospital buildings
The positive news is that even asbestos present in hospital buildings is not generally considered a health hazard if it is left undisturbed, as the fibres will be encapsulated. Nonetheless, you cannot always count on that situation remaining the case, especially if refurbishment or maintenance works need to be done, which underlines the importance of responsible asbestos management.
If you need help with asbestos in your own hospital, please don't hesitate to talk to our experts at Oracle Solutions. We have a proven track record of working in sensitive hospital environments for private and public trusts, handling complex and demanding assignments.
Call the team now or send us an email to request your free and fast asbestos quotation.