How do I become an asbestos surveyor
It has now been more than two decades since the UK imposed its final and complete ban on the use of asbestos in 1999. For a century before that, however, the naturally occurring fibre was used extensively in the UK, in industries such as shipbuilding and construction.
The legacy of the substance's use in the UK, then, is a far-reaching one. To this day, many public and private buildings up and down the country contain the material.
Where asbestos continues to be present in buildings constructed before the year 2000, dutyholders are required to safely and responsibly manage it, to ensure it does not pose a risk to the health of those visiting and using the premises.  
This brings us onto the subject of asbestos surveying, and the role of the asbestos surveyor.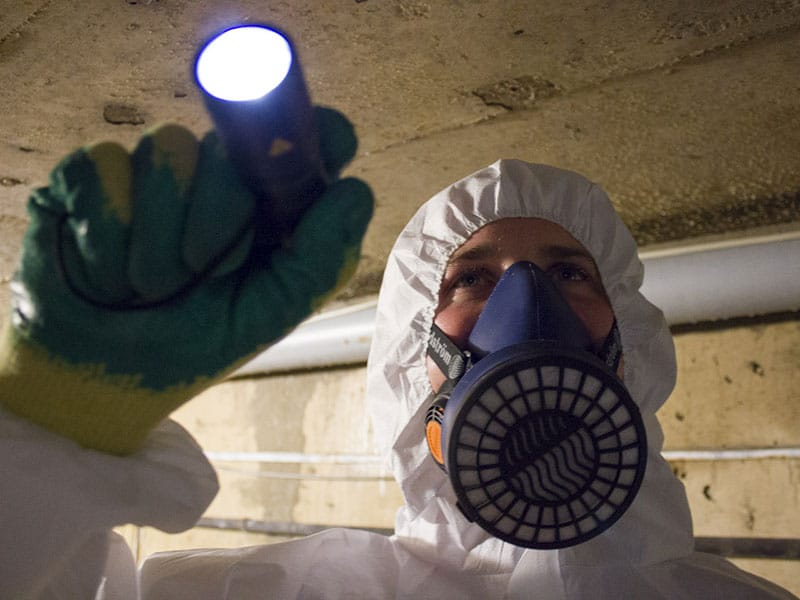 What is an asbestos surveyor and what do they do?  
Current UK law requires that those responsible for non-domestic premises manage the risks that asbestos might pose to the health of those who could be exposed to the substance on their site.
However, such dutyholders will not be able to make informed decisions on how to manage the asbestos present in their buildings, if they do not know whether asbestos is present on their site – or its location, quantity, or condition.
This is where the services and expertise of professional asbestos surveyors show their worth. An asbestos surveyor helps a dutyholder fulfil their asbestos management responsibilities by identifying, analysing, and monitoring asbestos-containing materials (ACMs) on a given site.
When an asbestos surveyor is called upon to complete an asbestos survey for a given property, they will typically inspect the premises for indicators of asbestos and take samples for laboratory analysis.
The asbestos surveyor will determine whether and where asbestos is present on the site, as well as its quantity and condition. They will then provide this information to the dutyholder and make recommendations on how the dutyholder can manage the asbestos and the risks it might pose.
What qualifications do you need to work with asbestos?
In order to become an asbestos surveyor, you only need one of two industry-recognised qualifications: a Royal Society for Public Health (RSPH) Level 3 Award in Asbestos Surveying, or a P402 qualification, the latter being the more common of the two.
The RSPH Level 3 Award in Asbestos Surveying equips learners with the knowledge that they require in order to inspect buildings and premises for asbestos, as well as to advise on how to manage any asbestos found. It consists of four units: (1) asbestos types, uses, health effects, and legislation; (2) asbestos surveying and the management of asbestos in buildings; (3) bulk sampling of asbestos; (4) the use of decontamination units and Class H vacuum cleaners during asbestos surveys.
The P402 qualification is offered by the British Occupational Hygiene Society (BOHS) and various other companies. It covers how to carry out an asbestos survey, and the techniques for taking samples of suspected asbestos materials in buildings. The qualification covers five main topics: (1) legislative requirements; (2) asbestos in buildings; (3) risk assessments and the management of asbestos in situ; (4) bulk sampling and personal decontamination; (5) extensive practical work. In order to take the P402 certificate, the candidate will need to have at least six months' site experience in the field, as well as strong knowledge of the Health and Safety Executive (HSE)'s HSG264 surveying guide.
On a basic level, anyone can gain these qualifications and then get a job as a trainee apprentice, which will enable them to start building experience in the industry. This would be our recommended and preferred route – not to mention the quickest – as it would enable you to get hands-on training and experience.
Alternatively, you might look to follow the route of a university or college course:
A university degree: many people become asbestos surveyors in the UK by completing a degree course in surveying, civil and building engineering, or construction management. If this pathway is of interest, you should ensure the professional qualification or degree has the approval of the Royal Institution of Chartered Surveyors (RICS). To gain admittance onto an undergraduate degree course, you will typically need three A-levels. Once you complete your degree studies, you will be able to undertake specialist training to become an asbestos surveyor.
A college course: you can become an asbestos surveyor through a reputable college. This can involve gaining a Level 3 Award in asbestos surveying, followed by a Level 4 Certificate in asbestos laboratory management. You will then be able to gradually gain construction-industry experience to build up your employability.
An apprenticeship: you can also gain entry into asbestos surveying by taking on an apprenticeship with a surveying firm or contractors. Completing the apprenticeship will enable you to gain the status of a surveying technician. From there, you will be able to further develop your skills to become an asbestos surveyor.
If you do follow the university or college course route, at some point you will still need to take either the P402 or the Level 3 Award in Asbestos Surveying, in order to become an asbestos surveyor. These are the two industry-recognised qualifications, and it is the trainee/apprenticeship route that represents the quickest way to start working in the industry and to gain hands-on experience.
The university and college routes would be more thorough in all aspects of surveying, but not specifically in asbestos surveying; plus, they are time-consuming options.
Please note that becoming a competent surveyor will usually take a minimum of two full years of surveying a variety of types of buildings and producing various survey types. You will also need to be subject to ongoing assessment by a qualified auditor. Bear in mind, too, that certification is not the same as competency.  
What skills does asbestos surveying require?
The following skills and competencies will help you succeed as an asbestos surveyor:
Decision-making skills: asbestos surveying is a role in which you might discover dangerous materials in unexpected places and circumstances. You may need to make quick decisions to manage the risks that asbestos presents on the premises you are surveying.
Communication and collaboration skills: although you don't necessarily need to be a stereotypical extrovert or "people person" to thrive as an asbestos surveyor, you will certainly need to communicate well and work closely with others in order to achieve goals. You will need to be able to clearly convey facts to your clients, for instance, so that they are in no doubt about the asbestos situation on their site.
Integrity: this is a quality that successful asbestos surveyors greatly value. If you have a high level of integrity, you will have respect for the dangers that asbestos can pose, and the importance of complying with the relevant legal requirements. With asbestos management being such a high-stakes matter, clients will only wish to work with asbestos surveyors who embody the highest levels of professionalism.
Environmental awareness: asbestos surveyors need to be extremely conscious of the environmental dangers that the lethal material can pose. As an asbestos surveyor, you will need to cautiously and diligently follow health and safety guidelines to help prevent any disturbance or damage to ACMs. This, in turn, will help ensure you do not inadvertently cause the release of asbestos fibres into the atmosphere.
How much do asbestos surveyors get paid in the UK?
Recent data from the Office for National Statistics (ONS) indicate that entry-level asbestos surveyors can expect an average salary of about £20,000 to £30,000 a year. This is similar to the amount that apprentices can earn when training for a future in asbestos surveying.  
Once you complete your training as an asbestos surveyor and gain several years' experience, your remuneration could rise to around £30,000 to £40,000 a year.
Ultimately, you could earn as much as £70,000 per year if you rise to the position of a senior asbestos surveyor with chartered status and extensive hands-on skills and experience.
Don't forget that as an asbestos surveyor, you are likely to be able to earn beyond your basic salary, with plenty of opportunities for overtime and healthy year-end bonuses.
What duties does an asbestos surveyor have?
You can expect to take on a range of day-to-day tasks when working as an asbestos surveyor, including:
Planning for surveys and asbestos screening: you will spend a lot of your time as an asbestos surveyor reviewing building plans and technical drawings, which will enable you to plan safe and responsible asbestos surveys. No given asbestos survey is exactly the same as the next, as you will need to make decisions on the basis of the different circumstances of each site.
Inspecting for asbestos: once you have determined what a given asbestos survey will need to involve, you will be able to proceed to seeking out asbestos on the particular site. This will entail knowing how to safely check such areas as boilers, walls, and ceilings.
Taking samples for laboratory analysis: asbestos surveyors routinely take samples of materials that they suspect contain asbestos, and arrange for analysis of them. Ceilings, interior walls, and basements are classic examples of spaces where the surveyor might spot suspected ACMs.
Reporting areas of suspected contamination: a suitably capable asbestos surveyor will be able to assess whether a given area likely contains asbestos – and if they do judge this to be probable, they will be accustomed to reporting it immediately to their supervisor or client.
Putting together reports: your job won't be done each day once you have completed the latest asbestos survey. That's because you will also need to assemble a report on the basis of what you have found on the client's site. This document will need to set out where you found ACMs, alongside recommendations on how to safely manage the asbestos present. Property owners and contractors will need to be able to see this report, so that they can act.
What are the career prospects of an asbestos surveyor?
Not only is the role of asbestos surveyor exciting in its own right, but it also offers a lot of interesting opportunities to develop a rewarding career.
Asbestos surveyors benefit from a well-defined career path, so you will know what to do in order to progress from a junior role to more senior positions. Completing the relevant certifications will elevate you to the status of a chartered asbestos surveyor. This, in turn, will help open up access to such potential future roles as supervisor and team leader.
You might also eventually become an architectural surveyor or self-employed consultant, after starting out in asbestos surveying.
What steps do you need to take to get started?
Depending on your situation and status right now, you can begin your journey to becoming an asbestos surveyor by considering your present qualifications and skill set against the details we have set out above.
You might reach out to your local college to discuss whether their training options would be the right match to your needs, or look up nearby apprenticeship opportunities. Even a simple Google search for "how to become an asbestos surveyor" will likely throw up interesting course options and educational resources.
Don't forget that if you require asbestos surveying or related solutions for your own premises, we can provide a highly competitive quote for this here at Oracle Solutions. Please call our team or send us an email for further information.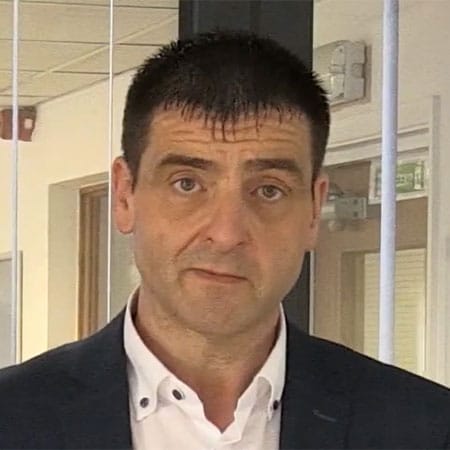 Written by Jess Scott
Jess Scott has been an all-round asbestos consultant since 1996. That's nearly 3 decades of asbestos knowledge. He spends his time sharing that knowledge with the team at Oracle and with their clients. Jess's goal is, and always has been, to use my expertise in helping people to comply with the law. This legal compliance ultimately helps to protect everyone from the harmful effects of asbestos. Jess has acted as an asbestos expert witness in legal cases and is involved in many asbestos educational activities throughout the UK.