Does asbestos affect heat pump installation?
On the recent backdrop of continued high energy prices and a sustained climate crisis, it can hardly be a great surprise that heat pumps have seen rising in popularity as a renewable, eco-friendly solution for heating and cooling.
It has been reported that in Europe, sales of heat pumps hit a new record in 2022, climbing by almost 40%. Over the course of the same year, global heat pump sales went up by 11%. And across the world, when used as a main heating device, heat pumps now cover approximately 10% of heating needs in buildings – the equivalent of over 100 million households.
Such statistics tell their own story about renewable energies and how heat pumps are coming to be regarded as a more and more relevant solution among homeowners, business owners, and other individuals and organisations responsible for the management and maintenance of buildings.
Heat pumps operate on the principle of transferring heat from one location to another – wherever it happens to be needed at a given time. There are two main types that you may already be aware of: air source heat pumps, and ground source heat pumps.
However, it is also important to know that the process of installing a heat pump – which typically involves such intrusive steps as drilling and the feeding-through of cables and pipes – could also present the risk in certain properties of asbestos being disturbed.
Understanding asbestos and its risks
Asbestos is a naturally occurring mineral that was once extremely widely used in construction, shipbuilding, and other industries in the UK. A relatively cheap, easily available, and physically strong substance, as well as a good insulator, it was unsurprisingly a popular material, being incorporated into all manner of products that remain present in many UK buildings today.
First commercially mined in the middle of the 19th century, asbestos was legal to use in the UK, right up until late 1999. It was especially widely used in UK construction from around the 1950s until the 1980s.
As the 20th century wore on, however, asbestos came to be associated with extremely serious health risks. By the 1970s, it was becoming more widely known among the public that the inhalation or ingestion of asbestos fibres could pose an elevated risk of developing potentially fatal health conditions – such as mesothelioma or asbestos-related lung cancer – for those exposed.
The final 1999 ban on the importation and use of asbestos in the UK prevented the substance's use in any future construction projects. However, there has never been a universal legal requirement in the UK for asbestos to be removed from buildings in any and all instances in which the material is already present. Consequently, the substance still exists in significant numbers of UK properties that were constructed or renovated before the year 2000.
This, in turn, means that if certain intrusive activities – such as the installation of heat pumps – are carried out in such older properties, there could be a risk of asbestos being disturbed. When disturbance is caused to old asbestos-containing materials (ACMs), loose asbestos fibres can be released, with people nearby at risk of swallowing or breathing in those fibres.
Asbestos in the context of heat pump installation
As we mentioned above, it can be a somewhat intrusive process to install a heat pump in a property. Although the exact processes (and therefore the exact risks) will vary from one property to the next, and will also depend on the specific heating system installed, a certain level of intrusion is to be expected.
Typically, the process of installing a heat pump at a given property includes positioning the inside unit on an external wall, and mounting it on a bracket. The installer will need to drill a hole through the wall, followed by feeding the essential cables and pipes through to the outside, so that they can be connected to the external unit.
So, there could be scope during the heat pump installation process for disturbance to be caused to asbestos inside the main property. However, there could be scope for any ACMs outside the main property to be disturbed, too. This is because in the case of ground or water source heat pumps, for example, there will be a need for extensive digging and laying of pipes.
As we covered here at Oracle Solutions in our previous article about asbestos-contaminated land, soil, and construction waste, there are various ways in which asbestos can end up beneath the surface of the ground. Often, such buried ACMs are a legacy of past construction and demolition works on the given site. Nonetheless, if you are looking to install a heat pump at your premises, it is another potential risk necessitating careful management.
Pre-installation asbestos survey
It is, in effect, a legal requirement for any building dating from before the year 2000 to have an asbestos survey. So, if your building already has an asbestos survey or asbestos register setting out where ACMs are present on the site, you will need to consult this as a first step.
A standard asbestos survey – which addresses the asbestos risks that could arise when a given building is in its normal day-to-day use – is known as a "management survey". However, there is also another type of asbestos survey, known as a "refurbishment/demolition survey", which you will need to arrange for your site before you proceed with heat pump installation works.
An asbestos refurbishment survey is much more intrusive and destructive than a management survey. It represents an essential step before any invasive works, such as the installation of a new heating system, are undertaken at your property.
By arranging for accredited asbestos surveyors to carry out a refurbishment survey at your premises ahead of the heat pump installation work, you can be confident that they will identify any ACMs that may be present, while also operating in the safest and most professional manner at every stage.
Common ACMs found in buildings
With asbestos having been so extremely widely used during its peak period of use in the mid-20th century, it would be an understatement to say there is a vast range of ACMs that remain present in many domestic, commercial, and public buildings around the UK today.
The following are just some of the commonly found ACMs in buildings that could conceivably be disturbed during the process of installing a heat pump:
Duct insulation
Pipe insulation
Floor tiles
Sprayed coatings
Textured coatings
Roofing felt
Asbestos cement products
As we referenced earlier in this article, such ACMs might not only be in the main building itself, but may also be present in the ground – an especially relevant matter if a ground source heat pump is to be installed. This might necessitate such steps as soil sampling or a land survey, which will enable you to identify such dangerous materials in soil where they are suspected to be present.
Safely managing asbestos risks
If – as a consequence of the above surveying processes being carried out – it is discovered that ACMs are present in or around the property, you will need to take steps, ahead of and during the heat pump installation, to guard against the risks of those materials being disturbed.
One important step could be ensuring the heat pump installers have received asbestos awareness training, so that they have basic knowledge of the material and its risks. Indeed, asbestos awareness training should be given to anyone who carries out work within or on any building or structure that may contain asbestos – so, that definitely includes heat pump installers.
Other sensible measures to help in the management of asbestos risks on your site could include the heat pump installers being given appropriate personal protective equipment (PPE) such as a respirator, disposable coveralls, and gloves.
There might also be a need to physically isolate certain areas where ACMs have been found to be present. In addition, the heat pump installers taking care to only drill gently, and on a low-speed setting, will help minimise dust creation and the scope for the accidental release of asbestos fibres to occur.
When asbestos removal becomes necessary
To reiterate a point we made earlier in this article, there is not an automatic legal requirement for any and all asbestos to be removed from a given property. Instead, the emphasis of the relevant asbestos legislation – including the Control of Asbestos Regulations 2012 (CAR 2012) – is on managing whatever risks ACMs may present in a property, which may or may not include removal.
To this day, the UK Health and Safety Executive (HSE) states that asbestos poses a negligible risk to health where it is in good condition and has not been disturbed or damaged. In light of this, it may be possible for heat pump installation to be carried out at your site, with sensible precautions – such as those we stated above – being put in place to guard against possible disturbance.
However, there may be certain circumstances – such as when discovered ACMs are in poor condition, and are at high risk of being disturbed during the heat pump installation work – in which you will probably have to arrange for the given materials to be removed.
If this describes your situation, and the materials are especially high-risk ones such as asbestos lagging, asbestos insulating board, or sprayed asbestos coatings, you should engage the services of a HSE-licensed contractor to make sure they are safely and responsibly removed.
The asbestos removal process itself necessarily entails a series of steps – including containment, removal, disposal, and decontamination – that may present risks to health if you attempt to do it yourself. So, placing your trust in licensed asbestos removal contractors will help give you the utmost peace of mind.
Conclusion: asbestos awareness and management can be crucial for heat pump installations
Whether in the main property itself or in the ground, asbestos can be present at a given site in ways that pose potential risks for heat pump installation. It is therefore crucial to not overlook or underestimate the importance of checking for ACMs at your own site, and to properly manage any such materials that do turn out to be present, so that you can help keep both workers and building occupants safe.
While heat pump technology is exciting and becoming increasingly relevant and useful to today's building owners, it is of critical importance to prioritise safety, compliance, and sustainability if you are embracing the use of such solutions at your own site. This is likely to apply especially strongly in older buildings, dating from before the year 2000, where asbestos might be present.
To learn more about our own expertise in asbestos surveying, management, and/or removal here at Oracle Solutions, and to request your free and fast quote for any such services that you may require ahead of your intended heat pump installation, please feel free to call or email us today.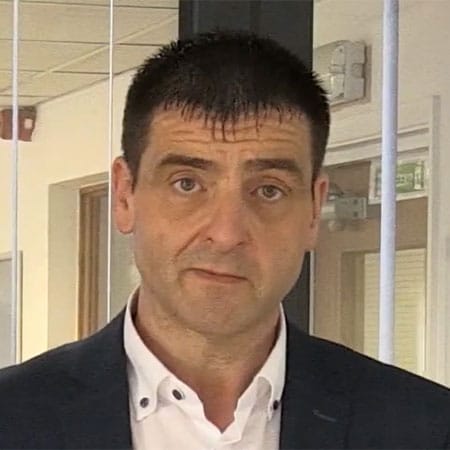 Written by Jess Scott
Jess Scott has been an all-round asbestos consultant since 1996. That's nearly 3 decades of asbestos knowledge. He spends his time sharing that knowledge with the team at Oracle and with their clients. Jess's goal is, and always has been, to use my expertise in helping people to comply with the law. This legal compliance ultimately helps to protect everyone from the harmful effects of asbestos. Jess has acted as an asbestos expert witness in legal cases and is involved in many asbestos educational activities throughout the UK.