We are based at Blackfriars in London which means your asbestos survey will be delivered to you as quickly as you need it.
"Your hard work appears to make things work like magic, I applaud you for that"
Claire Curran – Managing Director – Linaker (London)
Oracle Solutions – Based at in the heart of London at Blackfriars, your one-stop-shop for everything asbestos.
Asbestos surveys
,
asbestos removal
& disposal,
air monitoring
, training, management, contaminated land remediation. All services certified, licensed, accredited and insured. If you're anywhere in London and you need an asbestos service, here is your solution.
Oracle Solutions are London's leading asbestos professional. UKAS accredited, HSE licensed, UKATA certified, and H&S approved means you have peace of mind when using our services. Here is an overview of our professional credentials.
You will find our team easy to talk and happy to go that extra mile to give you what you need. You will be amazed at how quickly they will achieve what's required. With teams located throughout the London area we pride ourselves on the speed and efficiency which we provide. Highly trained, highly experienced and certified for every asbestos service currently available. This is the best and brightest team of asbestos professionals you will ever find.
"Very happy with the service, your guys were great"
Alex Bateman – Production Director – Cheaney & Sons (London)
Our asbestos services in the London Area
HSE Licensed asbestos removal and disposal throughout London. This is the most cost effective and fastest service available in the London area. You will have your asbestos removal project delivered on time by our highly trained asbestos removal team. If you are in the London area and you need asbestos removal, then see how we can help you.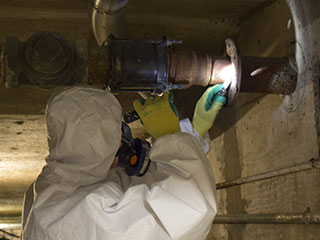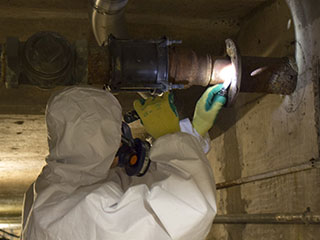 UKAS Accredited asbestos surveys throughout London. All asbestos survey types. Management, refurbishment, and demolition surveys. Our team of professionals will deliver all your surveying, testing and inspection needs quickly and efficiently. If you are in the London area and you need asbestos surveying, testing or inspection services then see how we can help you.
HSE Recognised, UKATA accredited, CPD certified asbestos training throughout London. Our qualified team of expert trainers will deliver asbestos awareness, asbestos non-licensed and asbestos management training anywhere in London. Face to face or virtually. If you need asbestos training or training refresher, then take a look and see how we can help you.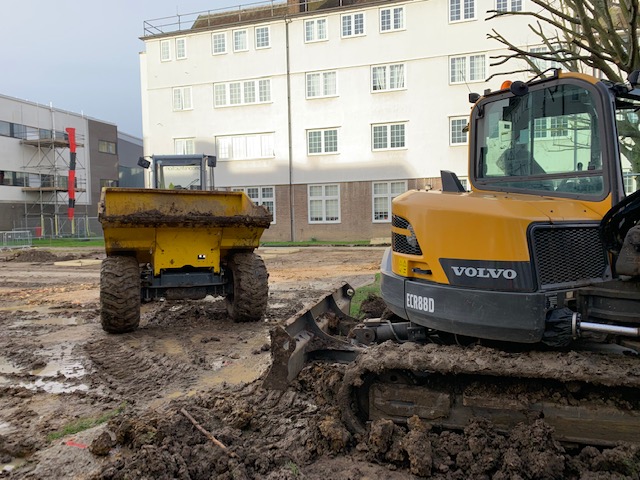 London Asbestos Contaminated Land
If you're in the London area and you have any requirements for services to deal with asbestos contaminated land, soil or construction waste then look no further. Oracle provide the full range of contaminated land services from removal & disposal through to surveying, WAC testing, soil sampling & testing through to bespoke management packages. High volume projects through to smaller bespoke contracts, we supply all haulage, machinery, equipment to deliver any size of asbestos contaminated land remediation anywhere in London.
What makes Oracle a perfect fit for you and your business in and around London?
In this short video CEO, Jess Scott introduces you to Oracle Solutions and explains why for over a decade more than 1000 repeat business clients continue to use Oracle for all their asbestos needs.
Oracle offer the best value, highest quality and high standards or service delivery to businesses throughout London. Don't just take our word for it, here's what our clients are saying.
Our Guarantees to You
Oracle Solutions are fully licensed, accredited, certified and insured – and we work tirelessly to deliver the best service for absolutely anything asbestos!
If you're in London and you require any asbestos service, contact a member of the Oracle team now by calling
0844 800 0801

or request your quote online
Oracle Solutions are experts in a wide range of asbestos consultancy services