HSE releases new asbestos health statistics, including a 6% yearly rise in mesothelioma deaths
Of interest to anyone who may need to make decisions in relation to the management of asbestos on their property, will be the Health and Safety Executive (HSE)'s release of new statistics documenting the impact that this extremely dangerous material has on health.
There are relatively few surprises contained within the data, which serve as further confirmation of what has long been known: that asbestos is the UK's biggest workplace killer.
More than 5,000 deaths a year in Great Britain can be attributed to asbestos-related disease, equating to about 15 deaths a day.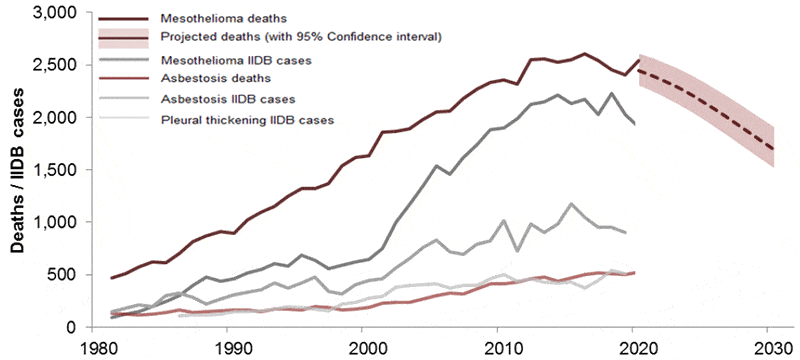 One of the more eye-catching numbers to have been released is that mesothelioma deaths in Great Britain went up by 6% in 2020, compared to the situation in 2019. But what do such statistics truly indicate, and what else did we learn from the other figures released by the HSE?
Asbestos disease has a long latency period – and this is reflected in the figures
One thing that continues to be in zero doubt, is the perilously high risk that asbestos exposure presents to human health. The inhalation of asbestos fibres is linked to the development of cancers such as mesothelioma and lung cancer, as well as other serious lung diseases such as asbestosis and pleural thickening.
It must also be borne in mind, however, that asbestos-related disease tends to take many years – typically between 15 and 60 years – to develop. This long latency period is reflected in the latest data, which show the impacts of health conditions relating to asbestos exposure often occurring at a time when working conditions were very different to today.
In the years after World War II, there was a need for significant construction work as the country looked to recover following the end of hostilities. It was during this time that the building industry made particularly frequent use of asbestos, exposure to which led to a steep rise in asbestos-related disease in Great Britain over the ensuing decades.
The statistics show that the last 50 years have seen a major increase in annual asbestos-related deaths, which are believed to largely originate from asbestos exposure before 1980. It is thought that the numbers of such deaths will continue at approximately current levels for the remainder of the 2020s.
Saddening reminders that asbestos is by no means a 'problem of the past'
However, while a lot of today's asbestos-related deaths may be attributable to fibres that were breathed in long before the final banning of asbestos in the UK in 1999, the sheer level of those numbers – and the fact that so much asbestos remains in buildings up and down the country today – is a crucial reminder that asbestos continues to be a 21st-century problem.
Those reminders are littered throughout the statistics, including the 2,544 mesothelioma deaths recorded for Great Britain in 2020, which – although this does represent a 6% rise from 2019's figure – is similar to the average of 2,523 deaths a year recorded for the previous eight years.
So strongly associated with asbestos exposure is mesothelioma, that the annual numbers of deaths from this disease paint a particularly clear picture of the continued impact of past contact with asbestos.
However, 2020 also saw about 2,500 lung cancer deaths linked to past asbestos exposure, as well as 530 deaths that mentioned asbestosis on the death certificate – excluding those deaths for which mesothelioma was also mentioned.
Looking at the other figures, divided by gender, there were 2,085 male deaths in 2020 – which, although this was again 6% higher than the 2019 figure, is consistent with projections that the numbers of annual male deaths will decrease after the year 2020.
Also up on the 2019 figure was the number of female deaths – 459 – in 2020. It represented a rise of 7%, and somewhat exceeded the average of 416 deaths a year recorded for the previous eight years. However, this statistic is also consistent with forecasts that the numbers of female deaths per year will continue at between 400 and 500 during the 2020s.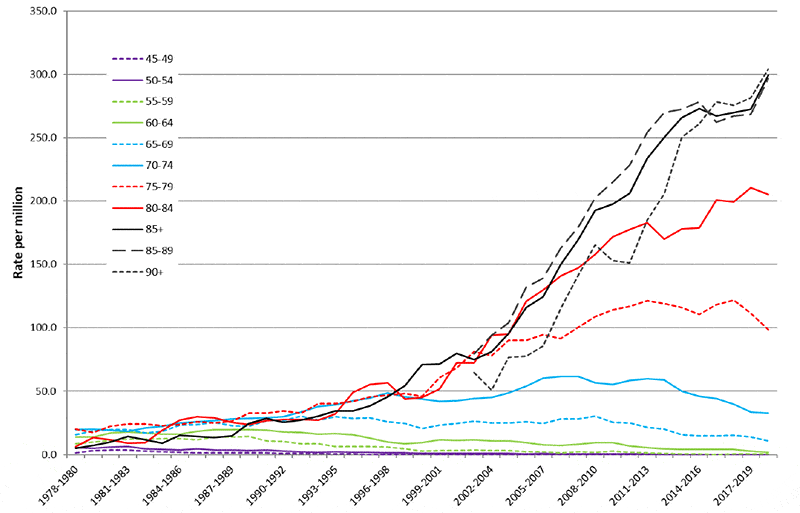 Some observers may understandably wonder about the extent to which the coronavirus pandemic may have impacted these figures.
Sure enough, the HSE noted that the COVID-19 situation might have affected the data to some extent, commenting that "a small number of individuals with mesothelioma and who developed COVID-19 may not have died in 2020 had [the] pandemic not occurred. Conversely, delays in the death certification system could mean that a small number of additional 2020 deaths will be identified in the future."
Also interesting to note in the latest figures is that about two thirds of annual asbestos-related deaths in both males and females now occur in those aged more than 75 years. Yearly deaths in this age bracket continue to go up, while deaths in those aged below 65 are falling.
What do these asbestos health statistics mean for the importance of asbestos awareness?
In a sentence: they continue to make the case for the huge importance of asbestos awareness and the associated training, even in a world in which there are many fewer people working directly with the substance than was the case for much of the 20th century.
Although asbestos is no longer used in construction in the UK, there are many buildings that still contain its fibres. It is therefore crucial that workers and supervisors have the information they need to enable them to avoid work that could cause disturbance to asbestos on-site.
To request your own free quote today for any of our asbestos services at Oracle Solutions, please do not hesitate to reach out to us via phone or email.