Case Study: 100's Of Operatives, 10's Of Locations, 1 Mammoth Task!
How Oracle successfully carried out a Mammoth project across multiple locations
The client:
Our client has over 200,000 clients of their own. Their clients rely on them across the planet, having over 50 offices across the globe to meet the demand. Storing endless amounts of paper documents in boxes. Shielding original records from cherished artists and protecting works of fine art!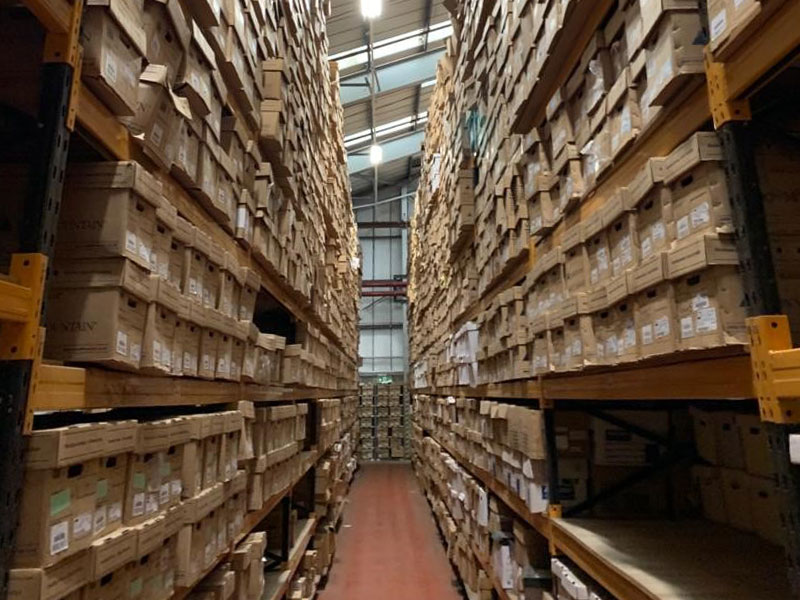 Client needs:
When we first got the call from our client, it seemed like a simple job. Just a couple of boxes that needed a wipe down as it had asbestos dust. Fine (we thought!).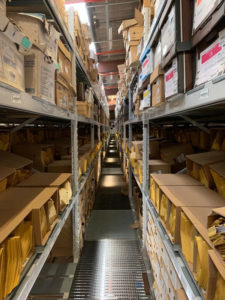 Our Commercial Director attended the site to have a look at what needed to be done. As he walked into the building his face dropped! How wrong could we have been! The unit had thousands upon thousands of boxes that were contaminated with asbestos! After speaking to the client in more depth, they started to realise how serious the situation was. They mentioned they had a couple of more sites that had the same problem and wanted us to investigate it.
Once the information came through, it was even more of a mammoth task then we ever would've imagined! There were 10's of locations scattered across the UK! Ranging from Scotland all the way down to Devon and even Ireland!
Our client needed this rectifying urgently. Not only for the safety of their staff, but also for their clients. The documents and treasured goods they were protecting could be requested at any time. We knew we needed to get a plan together and we needed to get it done fast!
What did we do: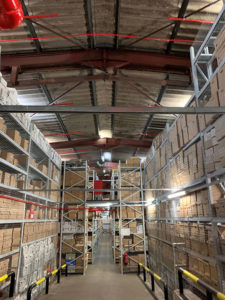 After lengthy conversations with our client, we could tell they were starting to panic. They didn't really understand the real problem until it was explained to them.
Oracle's Directors and Management team liaised with our client's current asbestos consultant. The asbestos risk was assessed. HSE were consulted. There was now a solution and our client wanted Oracle to deliver it.
Closing sites wasn't an option as it would mean documents and treasured items weren't accessible to their clients with no explanation. There clients thought the treasured items were safe, the mention of asbestos would just cause a global worry!
Our removal team started contacting 100's of fully qualified and well experienced asbestos contractors to work with us on a temporary basis to get the project completed.
We had 100's of removal operatives going all over the place! Scotland, Cornwall, London, Wales, Ireland, Birmingham. Wherever there was a site that needed our help, we were there.
We provided full accommodation to all our staff. It was like home from home!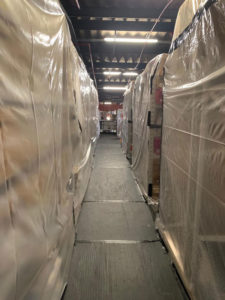 We organised 24-hour shift work. 1 team of workers doing a full day shift. The another doing a full night shift. And yes, this was all being done across all sites at the same time!
Can you imagine the work and planning that needed to be done for it to happen? There's not many asbestos companies out there, that could take on such a large project. However, at Oracle we pride ourselves on taking any challenge our clients give us. They need solutions, not problems.
The day supervisors and night supervisors would meet to discuss how their shift went. What sections had been completed. What problems had been faced. What needs to be done next, etc.
We needed to section off each area so our staff and our client's staff can carry on working in perfect harmony. And not to disrupt the huge project in any shape or form. Our client could not afford any delays!
The entire project across all the sites took just around a year (yes, a year!). Taking down each box carefully. Wiping every box and every single document. Removing cloths, covering high value art. Wiping art before new cloths were put in place.
There were hundreds of thousands of boxes across all the sites around the UK. We knew (and the client knew), it wasn't going to be a job that could be done in a couple of weeks.
The result:
In total, the client invested over £1,500,000 to protect staff members, valuable documents, and treasured goods. In total, Oracle cleaned over 2,000,000 boxes. Quite a big change from what the client thought was going to be a small project!
Our client was suitably impressed with the project. How we managed the whole task, especially when the units were still fully operational!
Our client said: "I am so glad I spoke to Oracle about this. We didn't really understand the full scale of what we were facing, until their Commercial Director attended. We will, for sure, continue to go to Oracle for our removal works. They have proven to us that no job is too challenging for them. They are completely reliable and during the whole year, they never let us down. Thank you, Oracle. You helped us deal with what could have been a very stressful situation!"