What are the risks of asbestos-contaminated land?
There was a time, only a few generations ago, when asbestos was extensively used in the UK, including in the construction of all manner of public, domestic, and commercial buildings alike.
This naturally occurring fibrous silicate mineral saw use in common construction products ranging from sprayed coatings and lagging to asbestos insulating board (AIB) and roofing felt, on account of such qualities as its relative affordability, availability, strength, and fire resistance.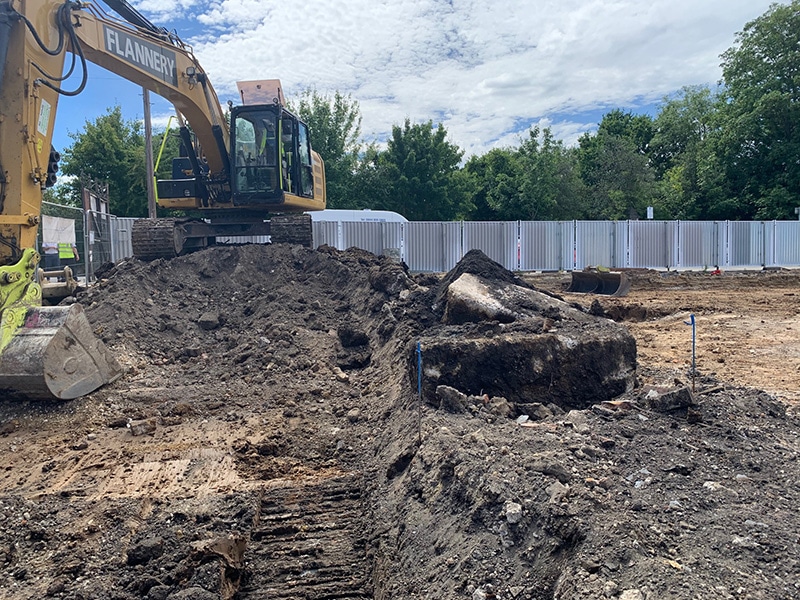 The 20th century, then, was effectively the "asbestos century" in countries such as the UK. Tragically, it took many decades for the public to become fully aware of the serious health risks the inhalation or ingestion of asbestos could pose to human health – including the potential development of serious and life-threatening conditions such as mesothelioma and asbestos-related lung cancer.
Over the course of the previous century's last few decades, political pressure grew to ban asbestos. In the UK, the importation and use of all types of asbestos was finally banned in late 1999. Such legal changes helped to prevent many people in the UK over the ensuing generations from suffering the lethal consequences of asbestos exposure.
However, with asbestos having been so heavily used in UK industry for so long, the dangerous substance has left a long-lasting legacy – including in the form of asbestos still being present on many brownfield sites up and down the country.
'Brownfield' sites are defined as areas of land that have been previously developed, such as for commercial or industrial purposes.
In efforts to help ease the housing crisis, formerly industrial land in the UK has often been reused for residential purposes, but there could also be a high likelihood of such land being contaminated with asbestos. Indeed, it has been suggested that this could be the case for around 85% of brownfield land.
What is asbestos-contaminated land?
The term "asbestos-contaminated land" refers to the phenomenon of asbestos-containing materials (ACMs) being present in the ground in some form.
This contamination can take a range of forms; asbestos products such as those we referenced above may be found intact or broken up to various degrees. In these instances, if you are familiar with what common asbestos products look like and how to identify them, you may suspect relatively quickly that a given piece of land for which you are responsible is asbestos contaminated.
However, in many cases, such ACMs in the ground might have broken up to such an extent that they are effectively mixed in with other materials, and there may be loose asbestos fibres.
Individual asbestos fibres are generally extremely difficult to spot with the naked eye. So, you can probably understand the difficulties of trying to depend on sight alone, when you are attempting to determine whether a particular site is likely to be contaminated with asbestos.
How does land become contaminated with asbestos in the first place?
Today, we are accustomed to a situation, in the UK at least, of stringent asbestos regulations and requirements, and "dutyholders" for a particular building or site frequently taking great care to manage the risks that any asbestos present might pose to human health.
Alas, this has not always been the case. Land that has become asbestos contaminated may have reached this state due to a variety of historical events and circumstances, such as:
Asbestos not having been removed safely and properly from a building prior to demolition. Such substandard procedures might have led to ACMs and loose asbestos fibres being left in the soil at the given brownfield site after demolition
ACMs that were already below ground at a given site – such as asbestos lagged pipes and ducts – not having been properly removed, or necessarily removed at all, prior to the demolition of buildings on the site
Asbestos waste materials having been illegally buried at the given site
Poor waste management processes having been used at a site where manufacturing historically took place
Asbestos-contaminated demolition rubble having been used as a construction material on the given site.
The wide range of ways in which asbestos can come to be present in the ground at a particular site further underlines the importance of being extremely vigilant if you do suspect the ground at land for which you are responsible is, indeed, asbestos contaminated.
The risks of asbestos-contaminated land and asbestos in soil
Even in instances of asbestos actually being present in soil or other materials at a given site, the exact level of risk to health is likely be influenced by a variety of factors. These include – but are not limited to – the exact quantity of asbestos present, how deeply the ACMs are contained within the ground, and the likelihood of the future disturbance and release of asbestos fibres.
Nonetheless, it is extremely important not to underestimate the severe risk that asbestos can pose to human health. Whether asbestos is in the ground on a cleared site, or above the ground within an existing building (and responsibly managed), the fact remains that any disturbance can result in the release of asbestos fibres into the air.
In the event of such a release occurring, someone nearby could easily inhale the fibres, without even being aware that they have done so. Such fibres could then become lodged in the lungs, and eventually lead to the development of serious conditions such as asbestos-related lung cancer, mesothelioma, or asbestosis.
After all, if asbestos is left in the ground, there are various ways in which disturbance might conceivably be caused to those materials in the future. Those could include:
Excavation works being carried out through the soil for such purposes as digging a trench, levelling the site for new construction, or creating a basement or swimming pool
The disturbance of a surface with asbestos-containing debris. Examples of this include mowing the lawn, and driving on 'hard' surfaces such as gravel
Even very minor levels of disturbance to materials in the ground. Often, where asbestos is present in soil, it is friable – in other words, one might only need to crush it by hand in order to release asbestos fibres.
It is also important to appreciate that the risks presented by asbestos in the ground are not just health-related ones; there are also legal and financial factors.
The Control of Asbestos Regulations 2012, or CAR 2012, set out strict rules and requirements with regard to the management of asbestos on non-domestic sites. Serious breaches of this legislation can lead to unlimited fines and/or imprisonment for up to two years.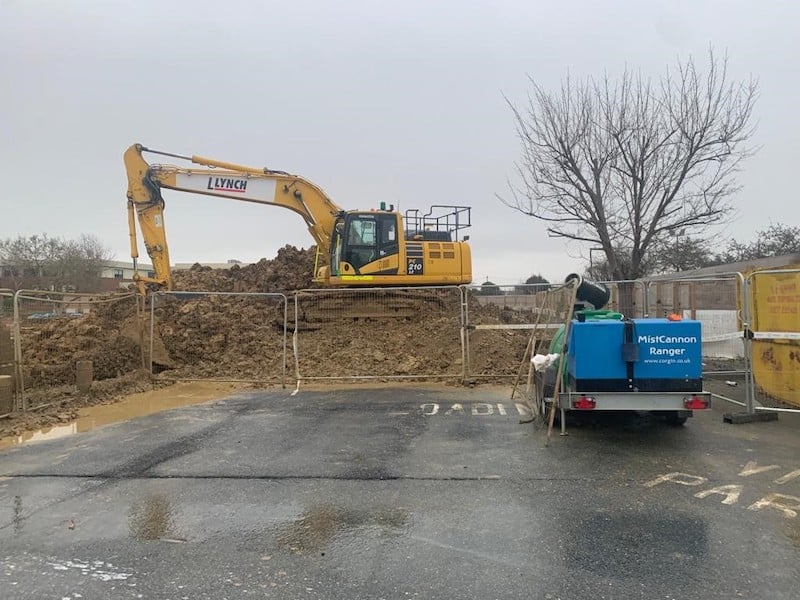 What steps should you take if you suspect there is asbestos in soil?
As we touched on above, it can be extremely difficult to "know" whether a particular site is contaminated with asbestos, through use of the naked eye alone. So, if you suspect that asbestos is present in land, soil, or construction waste for which you are responsible, you must then take the steps required in order to confirm whether asbestos is present.
Here at Oracle Solutions, we would typically recommend that in this situation, you arrange for a full asbestos land contamination survey to be carried out. This process will enable you to determine not only the presence or absence of ACMs, but also the extent of any such asbestos materials, how deeply the asbestos is embedded in the ground, and the specific types of asbestos involved.
Once you have determined all the above information about any asbestos in the ground at your site, the next step is typically to arrange for the safe removal of that asbestos.
By hiring only a reputable, licensed, and experienced professional to handle any such asbestos removal on your site, you can help ensure the perilous materials are correctly and safely taken away, and disposed of, in compliance with all legal obligations.
If you are looking to identify, manage, and remove asbestos on your land, please contact us
In this article, we have sought to explain the essentials of the situation with asbestos-contaminated land, including how it can occur, and the serious risks it can present to human health. Hopefully, you will now also feel more informed about the need to safely manage and/or remove any asbestos on your site – whether in-ground or above ground – that could pose such risks.
However, it is also true that no single given case of asbestos-contaminated land will be exactly the same as the next. With this in mind, if you are concerned about land for which you are responsible potentially containing asbestos, it is of critical importance that you seek out high-quality and professional advice and guidance.
Here at Oracle Solutions, we would be pleased to provide such help, so that you are well-placed to take the right steps in line with your legal, financial, and moral obligations. To contact us for a discussion and to request a free and fast quote for any of our asbestos services.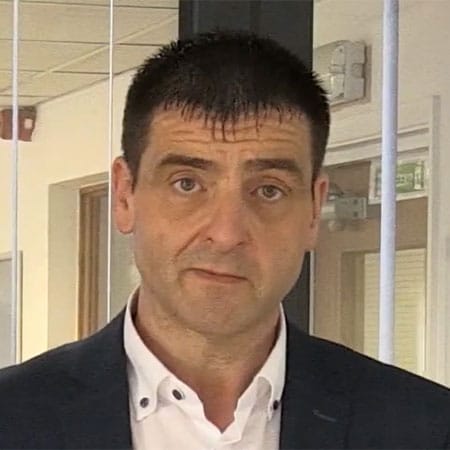 Written by Jess Scott
Jess Scott has been an all-round asbestos consultant since 1996. That's nearly 3 decades of asbestos knowledge. He spends his time sharing that knowledge with the team at Oracle and with their clients. Jess's goal is, and always has been, to use my expertise in helping people to comply with the law. This legal compliance ultimately helps to protect everyone from the harmful effects of asbestos. Jess has acted as an asbestos expert witness in legal cases and is involved in many asbestos educational activities throughout the UK.