Quality Asbestos Surveys, Asbestos Removal & Air Testing In Birmingham, West Midlands
Local, qualified and experienced operatives to carry out any asbestos project in Birmingham
We carry out asbestos surveys, asbestos removal and air monitoring services in Birmingham and the West Midlands. We use local asbestos operatives enabling us to provide you with a fast and reliable service. We deliver all types of asbestos surveys such as:
Unsure as to which asbestos survey you may need? Call us today for free, professional and friendly advice on asbestos surveys
For a fast & free asbestos survey quote call
0844 800 0801
For a fast & free asbestos survey or asbestos removal quote call
0844 800 0801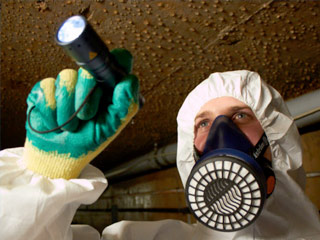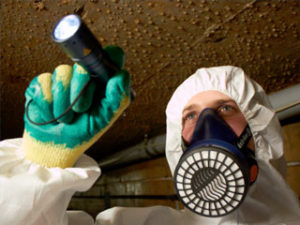 We are accredited by the United Kingdom Accreditation Service
(inspection body 4600)
. They are the only
asbestos surveying
accreditation scheme in the UK. Guaranteeing you the right advice and the best service from our Birmingham based asbestos surveyors.
Our asbestos survey report  is easy to read and simple to understand. The information provided is clear and concise and we deliver our survey reports in a timely manner.
As an Oracle customer, you will have access to free asbestos management advice and information, from our panel of experts. Meaning, no matter what your asbestos needs are in Birmingham and in the West Midlands area, you can be confident you will be offered all the tailored asbestos management solutions.
To get the right help, call our friendly expert team today. You can find out more about the asbestos surveys and solutions we provide in Birmingham, West Midlands.
You don't want to pay over the odds. By talking to our team, you will get the tailored solutions that suits your needs and your budget.
With all the information to hand, we can give you an accurate quote for an asbestos survey in Birmingham.
Our asbestos survey experience in Birmingham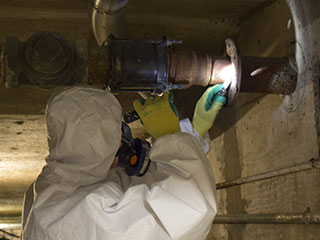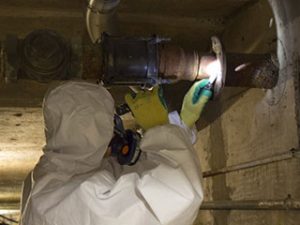 For over a decade, we have been providing asbestos management, asbestos refurbishment and asbestos demolition surveys in and around Birmingham.
Developing long-term relationships with many clients, we have worked closely with NHS clinics and hospitals in the city including Birmingham Women's Hospital.
As a company we have also worked closely with education providers such as Birmingham's Aston University as well as commercial clients such as Birmingham – based Dunlop Aircraft Tyres.
We are also proud of our ongoing association with Birmingham City Council.
With our in-depth knowledge and experience, why go anywhere else for asbestos surveys in Birmingham?
HSE Licenced Asbestos Removal in Birmingham, West Midlands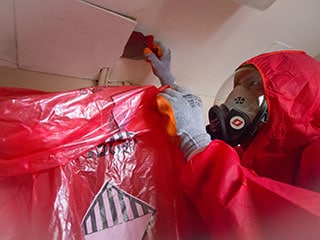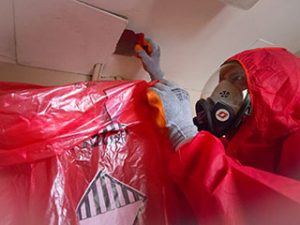 As well as our surveying service, Oracle has the experience and capability to safely carry out the removal of asbestos containing materials from commercial premises in the Birmingham area. Our asbestos removal services help to support and complement our other related asbestos services. This enables us, as a company, to provide full service support to help give our clients complete peace of mind.
As part of our asbestos removal services, Oracle are able to carry out all types of asbestos removals from encapsulation, to remediation, right though to the decontamination of commercial buildings and other premises.
Oracle's asbestos removal services are expertly supported by a full team of highly experienced and accredited asbestos removal contractors as well as a highly experienced and knowledgable management team.
Delivering Asbestos Removal Projects in Birmingham
Our local removal operatives have carried out endless asbestos removal projects in Birmingham, including the West Midlands area. We've carried out removal works in places like the Natwest Tower and the Pallasades. We are experts in planning the removal works on any commercial building and over the years have a wealth of experience working in the Birmingham area. See what our customers say about our removal projects.
Birmingham's Asbestos Air Testing Service
If you are looking to have asbestos removal works or in need of having an asbestos survey, then the likelihood of needing an air test is high. With our local analysts in Birmingham and in the West Midlands area, we can be at your beck and call 24 hours a day, 7 days a week.
The air testing service is UKAS accredited, reassuring you that you are in safe hands no matter where you are in Birmingham. Our asbestos air testing service is quick, professional and at a high quality. Just what you need for peace of mind.
Not only do we offer a 24 hour, 7 day a week asbestos air test service, we can also provide you with the results of the air test the same day! The asbestos analyst will provide you with a certificate before they leave site, for you to have the reassurance you need.
Oracle Solutions Experience Suppling Asbestos Air Sampling in the Birmingham Area
We have worked with many companies and firms in Birmingham and in the West Midlands. The asbestos air test service can be used when carrying out an asbestos survey or if you for an asbestos removal project. Not only can this service be used for surveys and removal works, it can also give you reassurance and provide peace of mind if you feel you are at any potential risk to asbestos exposure. Birmingham is a busy city, which is why we have a wealth of experience working in a fast and professional manner. Oracle have been going for over 10 years and during this time we can safely say, there isn't many places in Birmingham or in the West Midlands we haven't been to.
Worried about asbestos?
If you are worried about the presence of asbestos in a property, then do not hesitate to contact one of our asbestos specialists who will be able to arrange for an asbestos survey to be carried out and if required for any asbestos removal to be undertaken. We operate throughout the Birmingham and west midlands area so one of our expert consultants is never too far away.
Asbestos Awareness Training Courses
As well as providing a range of leading asbestos services, Oracle also offers a range of asbestos awareness training courses to businesses and service providers throughout the Birmingham area.
Oracle is fully accredited and can either deliver the training in our bespoke UKATA accredited modern training centre, at your own offices, or, in response to the latest COVID guidelines, virtually.
Accredited experts deliver our asbestos awareness courses in an interesting, informative, and engaging way, and our training courses will provide the necessary skills to those who could foreseeably come into contact with or disturb the fabric of a building, where asbestos-containing materials could be present.
Being asbestos aware will allow you to identify the risks associated with asbestos so that you know how to deal with it should you come into contact with such materials. Following the completion of one of our asbestos awareness training courses in the Birmingham area, you will receive an HSE recognised certificate.
Oracle Solutions are experts in a wide range of asbestos consultancy services