Asbestos Surveys, Removal and Asbestos Air Testing in Swansea and Cardiff
A wide range of asbestos services including detailed asbestos surveys, intricate asbestos removal works and all varieties of asbestos air testing in Swansea, Newport and Cardiff
There are numerous historic buildings located within Swansea, Cardiff and the South Wales area. From this, the older, commercial buildings are more likely to contain asbestos and pose an environmental and health and safety risk. Oracle Solutions have a team of asbestos surveyors who travel around the Swansea, Cardiff, Newport and South Wales area, undertaking detailed UKAS Accredited (inspection body 4600) asbestos surveys for our clients. In addition to our asbestos survey team, Oracle have asbestos removal specialists and air monitoring experts who are able to provide you with all a wide range of asbestos services to meet your asbestos requirements.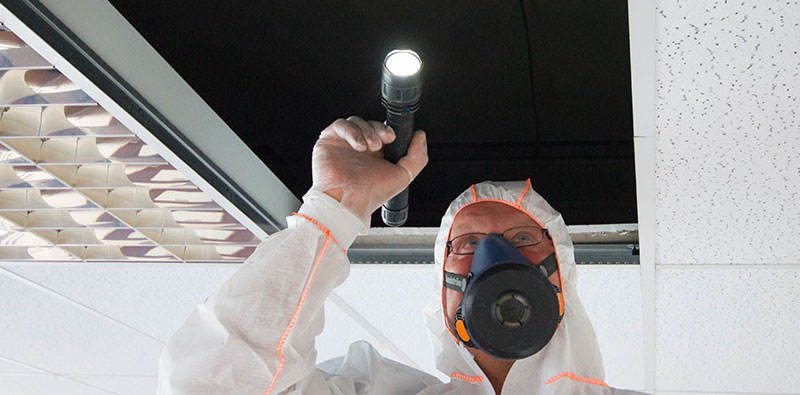 UKAS Accredited Asbestos Surveying Services
Oracle Solutions has the best and highly qualified asbestos surveyors providing you with every asbestos survey type you may need in the Swansea, Newport and Cardiff areas. Our asbestos surveying team are working 24 hours a day, 7 days a week, to meet the needs for our clients and ensure that all environmental and health and safety needs are met. Once a survey has been completed, we have a knowledgeable report writing team based at our head office, who will assemble all the data from the surveyors and simplify the information into an easy to read asbestos report for you.
Our asbestos surveying team has a range of experience covering all different kinds of sectors, from housing to the most complex site locations such as power stations, hospitals, and industrial factories. Our asbestos surveyors are constantly on the go, delivering all types of asbestos survey that today's businesses and organisations need. If you require an asbestos survey then do not delay, phone Oracle Solutions today.
Asbestos Removal Services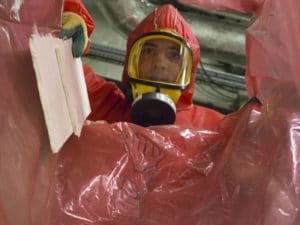 Oracle Solutions are HSE licensed asbestos removal specialists who cover the whole of the South Wales region. As our asbestos removal specialists have been logistically placed throughout Swansea, Newport, Cardiff and South Wales, it gives our clients the opportunity to work with locally based asbestos removal specialists. Oracle will obtain all the licenses and accreditations we need to provide to you the best removal and disposal of asbestos services. We will also work to ensure that all environmental as well as health and safety obligations are met.
Oracle Solutions are the "one stop shop" for all your asbestos removal and disposal requirements. We provide in-depth guidance in a quick, easy, and professional manner and our enthusiastic customer service team with a wealth of knowledge and will be able to answer any of your asbestos removal questions and assist you whenever needed. If you need assistance with asbestos removal in the Swansea, Cardiff and South Wales area, then call Oracle Solutions today.
Oracle has been involved in complex asbestos removal works within the Swansea, Newport and Cardiff area. We have been privileged to work in some of the well-known buildings and landmarks, such as St David's House in Cardiff and Morfa Stadium in Swansea. Oracle has a portfolio of experience carrying out intricate and substantial asbestos removal works in the South Wales area for over a decade. Have a look at what our clients had to say.
Asbestos Air Testing Services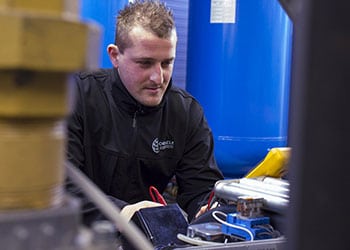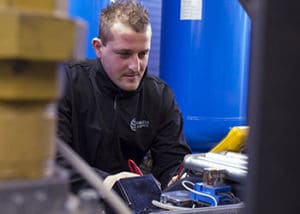 If you are in need of an asbestos survey or asbestos removal works, then an asbestos air test is seen as part of good practice. If this is happening in the Swansea, Cardiff, or South Wales area, then we can supply a locally based air testing consultant who can provide you with the information and reassurance that you need.
Our air testing services are used for asbestos surveys and asbestos removal works, or to provide reassurance to you and members of the public that they are not at risk of asbestos exposure. We know how busy Swansea and Cardiff can be, this is why it was important to allocate a team of air testing consultants within the South Wales area to be able to supply you with the air testing service you need, when you need it.
We have over a decade of experience, and during this time we can say that there is hardly anywhere we haven't been in Swansea, Newport or Cardiff. If you need an air test and you are based in South Wales then call us now and our customer service team will be there to help.
Our team of asbestos air testing consultants can supply you with the best guidance for any works that need carrying out in the Swansea and Cardiff areas. We are categorised as a third emergency service, helping you any time of the day or night and supplying you with the service you need 24 hours a day, providing you with our services 7 days a week. If you have any queries or need us to attend a site location, then give Oracle a call today. We are always here to help.
For your fast, free and instant asbestos survey, removal or air testing quote call
0844 800 0801

or complete the form below.
Oracle Solutions are experts in a wide range of asbestos consultancy services