UKAS Asbestos Surveys, HSE Asbestos Removal & Air Testing in Glasgow
Supplying UKAS asbestos surveys, HSE asbestos removals and air testing within the Glasgow area.
Due to Glasgow's historic nature, the properties in Glasgow are renowned to contain asbestos. With near to 100 years of experience within this industry from our Board of Directors alone, we are more than capable to assist in undertaking an
asbestos survey
in Glasgow. We have the experience to carry out any
HSE licensed asbestos removal works
and we can provide you with air testing, giving you the reassurance you need as and when you need us.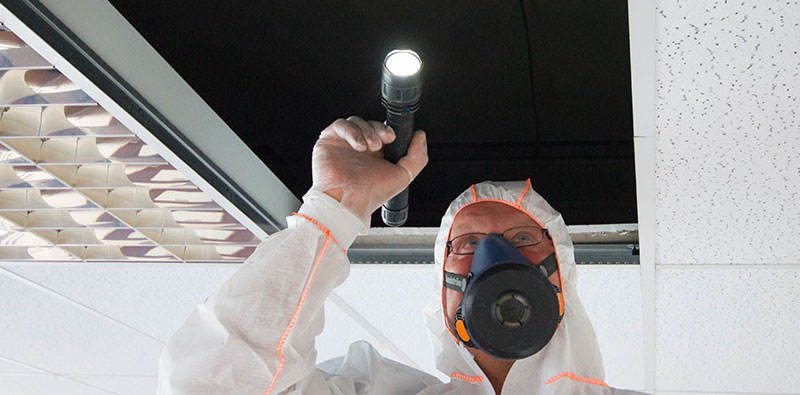 Providing the Highest Asbestos Surveying Service within Glasgow
Oracle Solutions has an extremely knowledgeable team of asbestos surveyors, who can carry out any asbestos survey you desire within Glasgow. Our business is growing year by year which, has led us to have a team based in Glasgow who work relentlessly, meeting the needs and demands from our clients. We have the knowledge to supply you with asbestos management surveys, asbestos refurbishment surveys, asbestos demolition surveys and even asbestos re-inspections.
Our asbestos surveying service also includes an easy to read UKAS accredited asbestos survey report, which will provide you with all the information you need to manage your asbestos in a safe and manageable way.
Suppling UKAS Surveys in and around the Glasgow Area
Our UKAS accredited Glasgow asbestos team are highly qualified in undertaking all types of asbestos surveys. With our Glaswegian asbestos survey team, we have the means to be able to meet all your requirements and demands for a wide range of customers.
Because of our many years of experience and knowledge within the asbestos industry and our varied client base in Glasgow, we have had major dealings with some of the most complex sites in Glasgow. Ranging from industrial sized factories, hospitals and railway stations. Oracle's Glasgow based surveying team are undertaking different asbestos surveys on a daily basis, 24 hours a day for all types of corporations and organisations. If you are in need of an asbestos survey, give us a call.
Providing the Best Quality HSE Licensed Asbestos Removal Service within Glasgow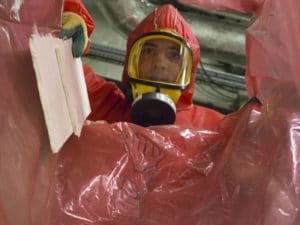 Due to our expansion, we have a fully HSE licensed asbestos removal team in Glasgow. Removing and disposing asbestos from all types of buildings every day of the week at any time of the day. Because of the workload in Glasgow, we needed to place an asbestos removal team in Glasgow to meet the high demands of work and giving the reassurance to our clients for their needs. Our asbestos removal team are fully HSE licensed, meaning we can carry out any asbestos removal project and can give peace of mind that it is being done correctly, efficiently, and being fully compliant.
Oracle Solutions are known to be the one stop shop for all removal and disposal requirements. Oracle Solutions are known to provide the best, expert advice on asbestos removal and disposal in Glasgow in a fast, easy and efficient manner. We have an excellent customer service manner and can guarantee you that there is no other asbestos removal company quite like us in Glasgow. If you need a free quote for any of your asbestos removal works then call us today.
Suppling HSE Asbestos Removal Works in and near Glasgow
Oracle Solutions have done countless amounts of asbestos removal projects to the entire Glasgow area. We have been involved in some of Glasgow's established buildings, such as, Argyle Street and York street building (What Every Woman Wants) and Red Road Flats. We have provided numerous asbestos removal projects to endless commercial properties within the Glasgow area over the last decade. Have a look at what our clients have been saying about our asbestos removal works.
Providing Top Quality Air Testing Services within Glasgow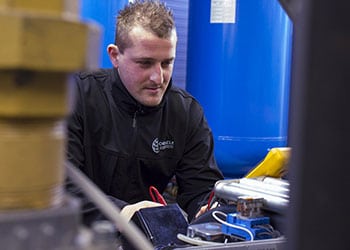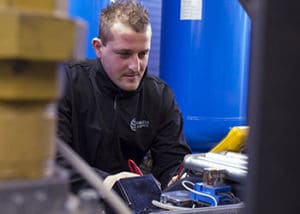 Oracle Solutions provides air testing in and areas near Glasgow. If you require an asbestos survey or asbestos removal works, you will be in need of an asbestos air test. Our Glasgow based air testing team are always nearby to carry out the service in Glasgow as and when you need us.
We can supply you with UKAS accredited asbestos air testing, reassuring you that we are more than qualified to carry out the air testing you desire within the regulations, around the Glasgow area in a quick, simple and professional manner.
All air testing analysts are UKAS accredited to give you the peace of mind that no matter where you are in Glasgow, or if you are near Glasgow, we will be there to supply you with the air testing you will need quickly, efficiently and effectively.
Our asbestos air testing analysts can be with you anywhere, any time in Glasgow. Giving you the best service you need whenever you need us. Once we have completed the air tests, our analysts will provide you with a detailed certificate of analysis for your records.
Suppling Asbestos Air Testing Works in Glasgow
We have supplied endless air testing projects to countless firms across Glasgow. We can carry out any air test you need, whether it is for surveying, asbestos removal or even for reassurance if you feel you or any other member of the public are at risk to asbestos in Glasgow. We know Glasgow is a busy place which is why with our experienced team of air testing analysts we can be with you day or night, any day of the week. We can categorically say that there is hardly anywhere we haven't been running air tests within Glasgow.
For your fast, free and instant asbestos survey, removal or air testing quote call
0844 800 0801

or complete the form below.