You Need Great Value Asbestos Survey Information Quickly?
If you have 1 or many properties that need surveying call us now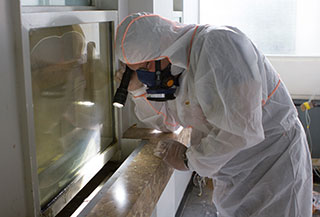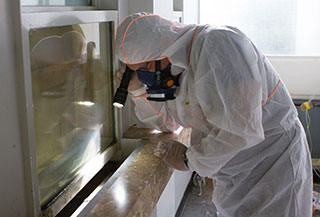 You need no hassle asbestos survey results that are great value and you need them fast. You won't get better value or faster results anywhere.
If your in a real hurry we even have our FastTrack service. That means that within 24hrs you will have what you need.
If you own the properties, rent them or lease them then look no further. With our expert guidance and fast results, we will make sure you tick every health, safety and compliance box.
When you call we will get straight to the point. You give us the details we need, and we will organise everything else. We have asbestos surveyors ready to go
So what do you need? An asbestos management survey or specific asbestos sampling?
If your answer is yes, then you have come to the right place. We specialise in all these types of surveys.
We give you the best and brightest surveyors. They are able to deliver the speed and standards you need for these inspections. They deliver these survey types every day to hundreds of satisfied customers.
And don't worry, if you need an asbestos refurbishment survey or an asbestos pre-demolition survey, we have that covered to.
Every survey and sampling type is different. This means you need surveyors with the right skills to match the survey you want. We match you with the surveyor you need.
You can trust us to deliver easy to understand asbestos information when you need it.
Quality you can trust:
Getting results fast is great. Getting them right is even better. This is why we invest so much time and money on the quality of our service. At the bottom of this page you can see our accreditation's, licenses and certification. Most important is our UKAS (4600) accreditation for asbestos inspection. As an Oracle customer this ticks every box for quality. With UKAS you know that the information we deliver surpasses all asbestos regulations.
Easy to understand asbestos reports:
We understand that asbestos can be a minefield of information. We have spent years listening to our customers. This is why we produce survey reports that are no nonsense and straight to the point. This saves you time and hassle so that you know exactly what needs to happen next.
Expertise on hand and our licensed asbestos removal team:
Once you receive your results you will need to plan your next move. Our team are on hand to walk you through all your options step by step. We will help you keep the health and safety people happy. Should you need it our licensed asbestos removal team are on hand. They will put together your available options. We are here to discuss what you need to happen and then make sure it happens.
For a fast & free UKAS accredited asbestos survey quote call
0844 800 0801
Request an Asbestos Survey Quotation
If you don't feel like talking to us right now then just fill out the quotation request form below and we will send you the information you need straight away.