We are based at Blackfriars in London which means your asbestos survey will be delivered to you as quickly as you need it.
"Your hard work appears to make things work like magic, I applaud you for that"
Claire Curran – Managing Director – Linaker (London)
Providing Accredited Asbestos Surveys in London
You can be confident and rely on your asbestos survey.  All our surveying services are UKAS accredited (inspection body 4600). You will get the best value service available. Our centrally located base in London means that you will have local surveyors undertaking your asbestos survey. This means we react quickly and efficiently. When you need us we will be there. All of our London based surveyors have many years of experience. They work in and around London and have extensive asbestos training and knowledge.
So to answer a few questions you may have:
Yes, you are getting London based surveyors
Yes, you get highly experienced surveyors
Yes, you get a fully accredited & insured service
Yes, you get a full comprehensive asbestos survey report
Yes, you get ongoing free professional advice
Yes, you get the best service available anywhere
Undertaking your survey is only part of the service. Highly experienced asbestos experts will talk you through your asbestos survey report. This will help you understand the report and have confidence in what you need to do next. Most asbestos surveying company's undertake the survey and then sit back. Oracle work very differently. For us your survey is only part of the service. We believe that we are there to support you. When it comes to asbestos, at Oracle you will always find a friendly, helpful voice whenever you need it. It's all part of the service.
"Very happy with the service, your guys were great"
Alex Bateman – Production Director – Cheaney & Sons (London)
Contact our London office now by calling
0844 800 0801

or request your asbestos survey quote online
Here are the three main asbestos survey types. If your not sure which one you need then call our London office now on
0844 800 0801
The basic asbestos survey for managing asbestos within your London property. This is the minimum requirement to comply with the asbestos management legislation. The asbestos management survey includes…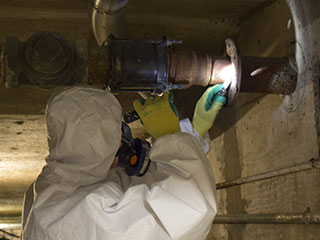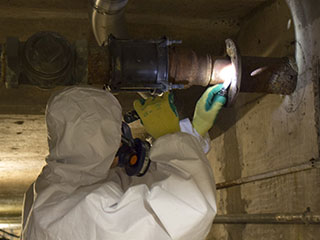 If your having a refurbishment project in your London property then this is the survey you need. This asbestos survey is a requirement and must be completed before you undertake any refurbishment works. This survey includes..
Thinking of demolishing your London property. Then you are going to need this asbestos survey. This survey will make sure you identify any asbestos risks before your demolition works start. This survey includes…
Oracle Solutions are experts in a wide range of asbestos consultancy services