Asbestos Surveys and Surveying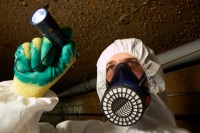 Oracle Solutions, offer a full range of asbestos surveying services that cover the latest survey types and techniques, which include all premises, buildings and locations. You can be sure that our services cater for all survey eventualities and requirements.
As a leading quality approved asbestos consultancy, all our asbestos surveyors and consultants are trained to the highest standards and as a minimum hold BOHS P402 Asbestos Survey/Surveying Certification and have a minimum of two years' survey experience.
All surveys, analysis of results and reporting is carried out to the highest standards and in full accordance with HSG264 Asbestos: The Survey Guide and HSG248 Asbestos: The analysts' guide for sampling, analysis and clearance procedures.
Oracle Solutions delivers a complete, professional asbestos survey solution to commercial customers throughout the UK. So, no matter where you are located, Oracle Solutions has the experience and capability to address and assist in addressing any asbestos issues that you may have.
Frequently Asked Questions
Request an Asbestos Survey Quotation
Save